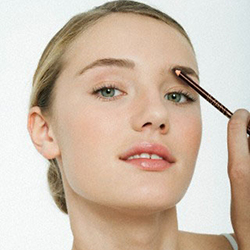 ...this style can be adapted and can look expressive and feminine.
Beverly Hills, CA (PRWEB) May 15, 2013
"Caterpillar brows", "mustache brows", and "man-brows". These are the nicknames for the current trend in runway styled make-up. Make-up artists are drawing attention to the ever-changing brow by brushing them up, filling them in and giving the models an emotionless, masculine appearance. However, this style can be adapted and can look expressive and feminine.
Long-Time-Liner® USA Inc., the leader in semi-permanent make-up, advises readers on the points to take to the streets and the pieces to be left to the theatrics of the runway. If done correctly, the result is youthful, fresh and entirely chic. Brows are now a staple accessory to be styled and displayed.
Naturally full brows will be easy to groom into the desired 'unkempt', or 'feathered brow' look. Simply brush brows straight up with a brow brush or clean mascara wand. Brow hair usually lays level to the skin, swaying in the direction away from the nose. Instead of smoothing brows flat, fluff them up by brushing into the opposite direction to add volume. Comb straight up and use a spritz of hairspray (sprayed into the brush, not directly into the face) or a clear brow gel to set hairs in this direction. Afterwards, using a brow powder or a slightly lighter colored brow pencil, fill in sparse areas with a bit of color to even out the whole shape. Extend the brow slightly if it should be made longer in accordance with the desired shape for the face.
For those with sparse or missing areas of the brow, the technique will be more difficult to execute. Begin the same way, by brushing brow hairs into the opposite direction of growth. Focus on lifting the hairs up, as it creates a more open and higher look. This is especially helpful to older people whose skin is starting to droop. Brows should then be locked in place with spray or gel. The trickiest part will be filling in the sparse areas. If there is not much hair to work with, the technique of drawing in or filling in is essential. Powders can create a nice, soft look but may be less controllable than with a pencil. For the best results, and most realistic looking brows, use a hard pencil (a shade or two lighter) and keep it sharp. Draw individual lines into the interior area of the brow, always along the direction of the natural hairs. Sharpen the pencil every few lines drawn to keep "hairs" thin and light. Fill out the brow and extend the outer end to a desired point.
Long-Time-Liner® semi permanent make-up technicians are able to create this trendy brow on any client who wishes to keep this style for a longer term. Whether it is a young woman with naturally full brows, to a more mature lady with missing and sparse brows, Long-Time-Liner® Beverly Hills can achieve great results! Technicians or "Linergists®" begin with a preliminary make-up application, just like the ones described above. Upon approval from the client, Linergists® will then apply the Conture® make-up in a subtle and highly detailed approach to create a natural looking brow.
Conture® Make-Up is applied into the most superficial layer of skin, the epidermis. This allows the client to wear a new brow style for 1 to 3 years, as it gradually fades away with exfoliation. Every year the client may change the style or color of brows they wear. The technique is gentle, safe for many skin types, and provides an almost unnoticeable effect to fill and reshape eyebrows.
Semi permanent make-up from Long-Time-Liner® Beverly Hills is always refined and delicate in approach. The company's philosophy is to create as natural a look as possible. The slogan of Long-Time-Liner® Beverly Hills is "Everyone will notice, No one will know". The company strives to enhance the genuine beauty of all clients and simply define and structure the facial features to perfect the harmony of each individual's magnificence.
For more beauty tips, inspirations, and more, Long-Time-Liner®'s Pinterest offers a wide variety.
Long-Time-Liner® is located in Beverly Hills California, at the heart of the beauty and luxury product center. There have been many beautiful and satisfied customers from all age groups, nationalities and personal style. Semi-Permanent Conture® Make-up can make a significant improvement to anyone's beauty. Contact the salon for more information and to book a consultation!