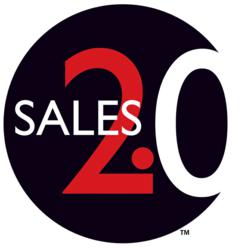 Sales reps who used social media exceeded quota more frequently than non-users.
Santa Cruz, CA (PRWEB) May 14, 2013
Sales Dot Two Inc., producers of Sales 2.0 events, today announced that its agenda for the upcoming London Sales 2.0 Conference on June 3 will feature a special focus on social selling.
"This isn't the first time we have addressed social trends in the B2B space, and it won't be the last," says Sales 2.0 Events Director Larissa Gschwandtner. "Social is a force that continues to offer new opportunities for sales and marketing organizations to gain a competitive edge."
Social networking sites are a well-established source of leads, engagement, and insight for many marketers. According to HubSpot's "2013 State of Inbound Marketing Report," social networking sites now contribute 14 percent of marketers' total leads and yield 13 percent more than average leads in conversions to sales. Marketers say leads from social media cost less and deliver more value than leads generated via other sources.
Although marketers are well along in adopting social media, sales is starting to catch up. According to a recently published survey about social media, "Social Media and the Sales Quota," social selling is becoming an effective channel for many reps. Data collected from 500 B2B reps showed the following trends.

78 percent say they use some form of social media to sell.
The highest adoption rates of social media use were among reps that sell to large enterprises and/or have a complex sales cycle.
LinkedIn was cited as the "premier B2B selling tool." Survey participants use LinkedIn for networking, prospecting, and doing pre-call planning.
Nearly three-quarters percent of salespeople using social media for sales outperformed their peers in 2012. Users of social media exceeded quota more frequently than non-users.
*40% of those surveyed closed two-to-five deals with social media, and 11 percent closed more than five deals.
"LinkedIn has more than 225 million members now, and reps have naturally gravitated to the site as a way to boost their prospecting and lead nurturing efforts," says Gschwandtner. "At our London event, attendees will learn from LinkedIn speaker Andy Eustace how to strategically leverage LinkedIn to build pipeline."
Laura Nuhaan, Partner at The Andeta Group will also present, "The 'Social Sales' Scorecard: Metrics for Sales & Marketing Success. She will discuss the new skills that sales and marketing employees need to tap the power of social selling. She will also review the main activities sales teams should engage in to be successful.
Sales 2.0 Conference host Gerhard Gschwandtner, founder of Selling Power, says that a good first step for sales teams to experiement with is "social listening."
"To stay ahead of the curve, it may be a good idea to create a new strategy that includes "social listening" and the creation of engaging content," Gschwandtner stated in a recent blog post, The Four Trends that Shape the World of Selling. "If your company doesn't have a LinkedIn group, it's time to start one. Every salesperson should have a LinkedIn profile that enhances your company's brand. Teach your salespeople how to use such tools as HootSuite to track clients on Twitter and share content with customers and prospects."
All registrants of the London Sales 2.0 Conference will receive access to the following bonus materials after event.
2013 Sales Management Optimization: Key Trends & Analysis (CSO Insights Report)
The Sales 2.0 Impact Report (2013)
2013 Sales Leadership Priorities Report (Frost & Sullivan)
Complimentary white papers on sales, marketing, and management effectiveness
About the Sales 2.0 Conference
The Sales 2.0 Conference showcases leadership strategies and SaaS technologies that help B2B sales and marketing leaders create more competitive teams and drive higher profits. Attendees learn how to achieve measurable success in such areas as CRM use, sales and marketing collaboration, lead generation and pipeline management, social media for sales and marketing, analytics and metrics management, customer engagement, sales transformation and change leadership, and sales process improvement.
AUDIENCE
Job titles represented will include CEOs, VPs of Sales, VPs of Marketing, VPs of Sales Operations, Division Sales Managers, Directors of Sales and/or Marketing, Directors of Sales Operations.
CONTACT
Larissa Gschwandtner
larissa(at)salesdottwoinc(dot)com
Tel: 831/435-9563
MORE INFORMATION
Twitter: @Sales20Conf / #s20c