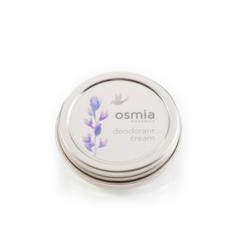 Carbondale, CO (PRWEB) May 15, 2013
Osmia Organics released its new Deodorant Cream today. It is a taupe-colored cream, comprising all-natural ingredients, packaged in a recyclable, screw-top, aluminum tin. The cream contains shea butter, jojoba oil, and tamanu oil (all certified organic), meant to help soothe underarm skin, which can often be irritated, especially in women, by shaving or waxing. Organic tapioca starch, baking soda, and fuller's earth clay help absorb moisture under the arms. Organic and wild-harvested essential oils, such as lavender, bergamot, and clary sage, are naturally antibacterial, and help control odor, as well.
Antiperspirants and deodorants have received a lot of press lately, due to circulating theories that the the parabens and aluminum in most conventional brands could be linked to diseases such as breast cancer and Alzheimer's Disease. Osmia founder, Dr. Sarah Villafranco, says "While there is no conclusive evidence to support a direct link between antiperspirants and cancer or dementia, I find the word 'antiperspirant' to be 'antihealthy'. The function of the axilla [armpit] is to release sweat and help moderate body temperature. Physically blocking the sweat glands (this is how aluminum works) prevents them from performing their function in the body. I can understand how you might need to do that if you have to stand up and give a speech, but it doesn't seem like a healthy thing to do every, single day."
The natural deodorant should be applied once or twice a day. A very small amount can be rubbed between the index fingers, and then applied to each armpit. The screw-top tin makes it very convenient for travel, should reapplication be necessary. The ingredients are 100% natural, and 91.9% certified organic.
For more information, or to purchase, please visit http://www.osmiaorganics.com