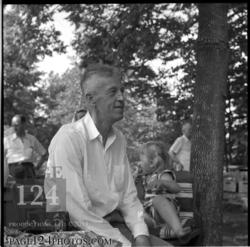 "We're thrilled to launch this tradition of showing 'Bill W.' every year on the anniversary of the founding of Alcoholics Anonymous," says Dan Carracino, co-producer/director of the film.
New York, NY (PRWEB) May 14, 2013
He almost died of his own addiction, found sobriety, then dedicated the rest of his life to helping other alcoholics reclaim their lives. He was named one of Time magazine's 100 Most Influential People of the 20th Century. Yet for years, no one knew his last name. He was William Griffith Wilson aka "Bill W.," the co-founder of Alcoholics Anonymous and the author of the original 12 Steps.
On June 10, 2013—the 78th anniversary of the founding of A.A.—filmgoers across the country can discover the man behind the legend. This year launches a new annual tradition of June 10 screenings of "Bill W.," the inspiring and candid documentary exploring the life of one of the least known but most significant men of the 20th century.
"Our film was released in 2012 without a single major studio behind it and without playing at a major film festival—yet it was critically acclaimed and became one of the top-grossing documentaries of the year," says co-producer/director Kevin Hanlon of Page 124 Productions. "That is a testament to the lasting power of Bill Wilson, who has touched the lives of millions of people around the world. And those people are extremely loyal to Bill's memory and legacy."
"We're thrilled to launch this tradition of showing "Bill W." every year on the anniversary of the founding of Alcoholics Anonymous because we want current and future generations to understand the enormous significance of Bill's achievement," adds Dan Carracino, who co-produced and directed the film. "We also want to introduce people to the real Bill, who ironically became idolized within an anonymous organization, yet was as human, and in many ways struggled just as much, as any other alcoholic who joins A.A."
"Bill W." will screen in 26 cities across the United States (see below for complete list of cities and theaters). The screenings will also help launch a new campaign for a U.S. postage stamp to commemorate the long-lasting and far-reaching accomplishments of Bill Wilson. Filmgoers will receive postcards that they can mail to the U.S. Postal Service requesting the creation of the commemorative Bill W. postage stamp.
"I'm very excited to partner with Kevin and Dan on this campaign, which will bring Bill W. into people's lives in a whole new way," says Leonard Buschel, founder of Writers In Treatment, who is spearheading the postage stamp campaign along with the renowned recovery website, In the Rooms. "At Writers In Treatment, we help connect people struggling with addiction with the treatment they need—and that treatment wouldn't be possible without the work that Bill Wilson did nearly 80 years ago."
"Bill W." portrays both the timeless story of one person facing overwhelming odds for his own survival and, at the same time, a life that has particular relevance today. Production started in 2004, as Carracino and Hanlon began researching archives across the U.S. to find film footage, photos, and audio recordings of Bill Wilson. The filmmakers also recorded interviews with historians and many A.A. members, including several who knew and worked with Wilson. Their film follows Bill Wilson through his 17 years of devastating alcoholism, the events that led to his own sobriety, and the crucial years of A.A.'s founding and growth. With Bill as its driving force, A.A. grew from a handful of people to more than 2 million men and women worldwide.
The following cities and theaters will screen "Bill W." on June 10, 2013. Call your local theater for showtimes:
Atlanta - Midtown Art Cinema
Boston - Kendall Square Cinema
Chicago - Century Centre Cinema
Corona Del Mar - Port Theater
Dallas- The Magnolia Theater
Denver - Chez Artiste
Detroit - Main Art Theatre
Indianapolis - Keystone Art Cinema
Los Angeles - Regent Theatre
Madison - Sundance Cinemas Madison
Milwaukee - Downer Theatre
Minneapolis - Lagoon Cinema
New York - Sunshine Cinema
Palo Alto - Aquarius Theatre
Philadelphia - Ritz East
Sacramento - Crest Theatre
San Francisco - Balboa Theater (on June 9)
San Francisco - Roxie Theater
San Jose - Camera 3 Cinema
Santa Cruz - The Nickelodeon
Seattle - Harvard Exit Theatre
Sedona - Sedona Film Festival
Spokane - The Magic Lantern Theatre
St. Louis - Tivoli Theatre
Tacoma - The Grand Cinema
Tucson- The Loft Cinema
Washington, DC - E Street Cinema
# # #
About Page 124 Productions
Page 124 Productions is a documentary production company based in New York. The filmmakers are not affiliated with Alcoholics Anonymous. Kevin Hanlon, a New York City resident, and Dan Carracino, a California resident, are first-time filmmakers and lifelong friends who had talked of making a film together since their days in high school. Both have seen first-hand the devastation of alcoholism, as well as the hope offered by Alcoholics Anonymous. After learning that no feature length documentary had ever been produced about the man who co-founded A.A. and authored its 12 Steps, they decided to make "Bill W."
About Writers In Treatment
Writers In Treatment is a 501(c)(3) non-profit organization grounded in the arts and recovery fields. W.I.T.'s primary purpose is to save lives through promoting and providing treatment as the best first step solution for addiction, alcoholism and other self-destructive behaviors. http://www.writersintreatment.org The international REEL Recovery Film Festival is a production of W.I.T. http://www.reelrecoveryfilmfestival.org.