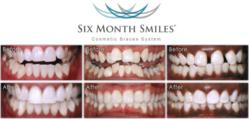 Smile With Confidence
Hove, East Sussex (PRWEB UK) 16 May 2013
Dr. Bruno Silva, Principal Dentist of East Sussex dental practice Brighton Implant Clinic, will be attending a Six Months Smile dentist seminar in London, UK on 24-25 May, 2013. The purpose of the seminar is the imparting of expert knowledge of Six Month Smiles®, the latest innovation in orthodontic treatment of adult patients. The seminar will be two days of full instruction in Six Month Smiles®, after which Brighton Implant Clinic will start using the treatment in its clinic locations.
"We're pleased to be able to soon offer this product to our adult patients. This treatment represents the latest industry innovation in the world of dentistry and oral care," says Dr. Bruno Silva. "It's a great step forward in helping adults everywhere obtain healthy, attractive smiles."
Six Month Smiles® differs from other orthodontic systems in multiple ways. While other systems make take prolonged periods of time or even years to produce straight, healthy teeth, Six Month Smiles® accomplishes this in a short six months. The product also is more comfortable, safer, and more affordable than other, more conventional orthodontic treatments. Last of all, its design makes a patient's post-treatment teeth positioning—and subsequently smile appearance— more predictable than other options do.
"Six Month Smiles® will enable us to offer our adult patients an effective solution for obtaining straight teeth and a beautiful smile, all at a very affordable rate," continues Silva. "We're excited to help our patients get healthy, beautiful smiles faster than ever before. This new treatment will help bolster our commitment to our patients and furthering their health through world-class care, cutting-edge technology, and treatment options of the highest professional caliber."
Brighton Implant Clinic has three clinic locations located in Hove, Halisham, and Brighton, and is a two-time award winner of the Private Dentistry Awards. The practice's staff has collective experience of decades of implant placement and treatment services, and is internationally reputed for its world-class patient care and top-quality dental implant and treatment services, with patients venturing from as far as Australia and the United States for treatment. Please visit http://www.brightonimplantclinic.co.uk/ to learn more about the practice's services and schedule a free initial consultation.