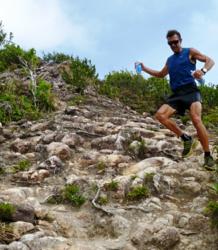 Having a vibration alarm for windy days or when I have Spinal Tap cranked to 11 on my iPod is super handy because I remember mile marks or other alerts
Bozeman, MT (PRWEB) May 14, 2013
Heart Rate Watch Company's chief tester and ultra, adventure athlete John Yarington completed several weeks of testing with the new Timex Run Trainer 2.0 and here are some of his comments.
This following is a scratch list of John's thoughts on the Run Trainer 2.0:
Likes:
"After lugging around the Ambit and Fenix GPS watches I love the light weight and fit of the RT2.0., especially the thin band," says Yarington. He adds, "Having a vibration alarm for windy days or when I have Spinal Tap cranked to 11 on my iPod is super handy because I remember mile marks or other alerts."
Yarington goes on to articulate that this running watch is simple, accurate, not too pricey, does everything a purist running watch should do, so it should be a top seller.
"I like that it is configurable on Training Peaks as well as on the watch and easier to do on a big computer screen," says Yarington.
Yarington's Favorite New Feature:
John Yarington's favorite characteristic was that the foot pod uses a "cadence only" mode. As Yarington says, "This is an option I have not seen in many watches." He adds, "It is unbelievable that the $400 Ambits can't do this because it allows you to see your cadence and still use more accurate GPS for everything else." He concludes, "This is huge!"
Dislikes:
Yarington says, "There are not as many configuration options compared to adventure watches but I guess that's why it's not an adventure watch."
Another weakness, according to Yarington, is that this watch is not super robust on the memory or battery life. "It's fine for mere mortals, those of us who don't work out all day long," says Rusty Squire, President of the Heart Rate Watch Company.
The Timex Run Trainer 2.0 resets the time and date when it runs out of battery instead of remembering it, according to Yarington, so this information has to be re-entered.
John is not a huge fan of Training Peaks software.  He says, "It's a little too techy for me." He adds, "I think Garmin Connect or Suunto Movescount style better fits this watch."
Yarington commented, "On my recent shorter run program coming back from injury, where I'm really trying to focus on cadence, this is my favorite day to day running watch." (Ed note: Short for Yarington is a relative term since this is a guy who thinks nothing of 17 milers).
John also said he'd have an update on his first thoughts on the Suunto Ambit 2S soon.