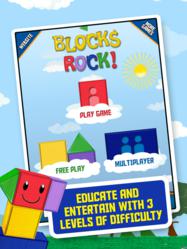 INDIANAPOLIS, IN (PRWEB) May 14, 2013
Today, Blocks Rock, LLC reaches a new milestone as the company expands to include new ventures with the release of Blocks Rock! onto the iTunes App Store. Inspired and brought to life from a table-top game, this innovative app combines the educational, competitive and colorful qualities of the table-top game into a contemporary medium.
Over the course of eight years, the Blocks Rock game project has evolved into something never expected. Expanding from a table-top game, the school then received alumni funding for the high school Entrepreneurship classes to develop the game into a marketable company. The goal was for company proceeds to go back to the school, supporting educational programming. Blocks Rock! has taken another giant leap forward with the development of an app version of the fun and exciting tabletop game.
"We're very proud that this game developed the way it did. From idea to iOS, this project has come a long way, and this app is a real affirmation of the creativity and entrepreneurial thinking of students at Wilbraham & Monson Academy ", explains Dr. Melissa Donohue, Director of Research and Development of Blocks Rock, LLC.
Suitable for ages 5 and up but fun for all ages, the Blocks Rock app is a geometric shape building game that involves color and shape identification, visual perception, structure coordination and computation to exercise the young imagination. Play in three different and exciting game modes to creatively match shapes and colors and test your own speed and skills.
"Blocks Rock was the creation of students, and we wanted to preserve those ideals in the app. What we've done is maintain the original game, but expanded the concept by including interesting backgrounds and unique block patterns", adds Skye Wallin, Project Manager of Blocks Rock, LLC.
Features of Blocks Rock! include:

Educate and entertain with 3 levels of difficulty: multiplayer, solo and free play.
Choose from a variety of backgrounds with upgrades available for purchase
Play with friends locally or from anywhere around the world
Apply your imagination and create your own design in the free play mode
Blocks Rock! is available now for free in the iTunes App Store. For more information visit http://blocksrockgame.com/.
App Store Link:https://itunes.apple.com/us/app/blocks-rock!-fun-puzzle-game/id605903291?ls=1&mt=8
Press Kit: https://www.dropbox.com/sh/zp154g3urlxi6jr/Iu8I_YeV-u
About Blocks Rock, LLC:
The Blocks Rock! table-top game was invented in 2005 by a group of middle school students from Wilbraham & Monson Academy. The game, which is recommended for kids ages 6 and up, is the inspiration for a new mobile app. Both the table-top game and mobile app versions of Blocks Rock! are now available for consumer use. The app is available for downloading on iOS devices, and the table-top game can be ordered through the website and is also available at museum gift shops and retail stores. Blocks Rock LLC is owned by the LaCrosse Family Business Trust, which invests and operates businesses a variety of industries including beverage distribution, oil absorption, cloud computing and cell tower services.
About The Wilbraham & Monson Academy:
Wilbraham & Monson Academy, The Global School®, is dedicated to preparing students for successful competitive college admission and facing the challenges of global citizenship and leadership. Our academic program creates global thinkers by offering a curriculum that integrates the mastery of traditional core disciplines of English, Math, Science, Foreign Language, and the Arts with the study of economics, entrepreneurship, and global studies. Combining the innovative curriculum of the Center for Entrepreneurial and Global Studies with a strong college preparatory program, which includes 19 Advanced Placement courses and various honors tracks, this Global Liberal Arts approach provides students the opportunity to work closely with caring adults in a traditional environment to acquire 21st century skills.
Our goal is to create ethical young men and women who investigate opportunities for intellectual growth, integrate by seeking intercultural connections, interact with others respectfully and effectively, and innovate by practicing critical reasoning and entrepreneurial thinking skills to address the complex problems of today and explore solutions for a better tomorrow.
###