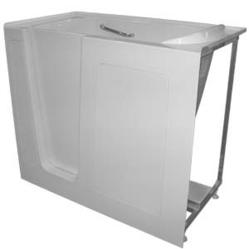 This self cleaning mode makes maintenance on our walk in bathtubs really easy!
New York, NY (PRWEB) May 14, 2013
A leading supplier of quality hydrotherapy walk in bathtubs, Aging Safely Baths announces a self cleaning mode technology that will now come standard on several of their hydrotherapy walk in tubs. This remarkable feature is automatic and bathers don't have to worry about setting controls. It is simply really. Once the bather has finished taking a bath and has exited that appliance, the tub will automatically turn on the blower motor and purge any water that may have reached the lines. This technology is currently only available on appliances with hydrotherapy; handicap shower stalls do not have a self cleaning mode.
The company also specializes in hydrotherapy transfer bathtubs that are designed for bathers in wheelchairs or customers requiring a bathtub in which a transfer is possible upon entry. Shoppers that suffer from severe arthritis or have extreme mobility restrictions may want to consider the potential benefits of a wheelchair accessible bathtub versus a traditional walk in tub.
According to Aging Safely, the self cleaning mode is now standard on several of the walk in bathtubs offered that have warm air hydrotherapy. In addition, several of the senior bathtubs come with ozone sterilization. This unique accessory is used to potentially help minimize bacterial growth that can sometimes occur in whirlpool water jet lines.
Fall prevention is big business these days; people aren't taking unnecessary risks when it comes to mobility and aging in place. Senior citizens can choose to modify their own homes and make the living environment more conducive to their safety by making simple modifications. One very important part of the home that usually needs improved is the bathroom. The elderly can have an incredibly difficult time entering a regular bathtub. Installing safety grab bars with a walk in tub, transfer bathtub or handicap shower in many cases will be a substantial improvement.
However one important factor to note; is that these unique hydrotherapy bathtubs aren't only for the elderly. The company provides numerous bathtubs that are contemporary and incredibly modern. Additionally they also have luxurious multi-person garden tubs available for customers that prefer something more traditional.
Customers that would like additional information or a no cost consultation can contact a representative without any obligation for purchase. Also for commercial interests, the company also supplies walk in tubs and handicap showers to nursing homes, assisted living facilities, contractors and builders.
Contact Information:
Zach Wennstedt
1-888-779-BATH(2284)
info(at)Agingsafelybaths(dot)com