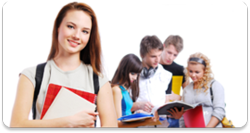 SearchMyDegree.Com Launches Much Awaited Education Blog
Iselin, NJ (PRWEB) May 14, 2013
For those who yearn to broaden their educational spectrum, the wait is now over as Search My Degree's Blog is live, please visit: http://www.SearchMyDegree.com/blog/. This is a unique blog designed for all students seeking admission in graduate or masters programs. The blog will aid students by helping them choose their desired degree and will populate the best school based on their search criteria. This portal will direct them to a specific career track that will help them to bag a job which can fetch them as high as $80K -100K a year. After the blog's launch; SearchMyDegree.com has become even more powerful in terms of offering effective information to high school grads who are ready to take the next step into college. The Searchmydegree.com team is committed to providing free information to all students and the blog is yet another step to enrich student experience.
SearchMyDegree.com's Blog will have well-researched articles that reveal professional insights into the education industry. These articles will help students decide their career path with ease. Visiting the site today shall fetch you a professional resume template worth $200.00 for free. The new blog is an effort by the Search My Degree team to provide a single platform that helps students ideate and weigh options in the field of study and finally settle for one.
Every student depending on interest chooses a degree, which is the most employable one and SearchMyDegree.com's blog will surely prove as an asset for all on those lines. The blog will be updated almost everyday with articles that come steeped in research about the employability quotients of degrees in varied streams. Given this, you might well deduce that the blog provides you the latest and most authentic information about opportunities that you should pursue in order to have a successful career in the future.
Search My Degree blog guides you across nuances of salary expectation allied to a particular course of study while also providing detailed insights into what the market holds for graduates in various domains. This education portal should be a hands-on resource to aid in making the right choice which can shape a student's future.
The CEO Mark, of SearchmyDegree.com says, "It is an optimistic effort to offer full freedom on education to the present generation. It (Searchmydegree.com) has been launched with an aim to help students search and compare information on over 200 schools presently listed on SearchMyDegree.com. Potential candidates have the capability to choose from more than 5000 courses offered by the various schools."
As the tag line goes "Degree Search Made Simple", all students can search degree or course based on various parameters like Interest, location, Online or Offline. Visitors love to get a degree online and avail the benefits of flexible learning hours, lower educational costs, access to university and study materials from any place in the world without allowing their whereabouts hamper the chances of getting a degree.
SearchMyDegree.com's blog will very soon have guest posts from renowned personalities from the education industry. Making going to education counselors obsolete as students will now have everything they need including in-depth and expert advice. The blog has just been designed to assure the candidates about the necessary facts of their chosen career path and has been made available as an invaluable resource.. It is a great site for students, guardians, schools as well as for college counselors.
About SearchMyDegree.com
http://www.SearchMyDegree.com is your eventual online helper to offer you some great information related to degrees, colleges, studies and scholarship. The site offers you reliable and direct information about the different sources of education and taking the right decision for potential online school courses or degrees.