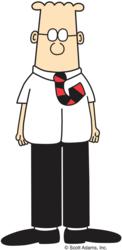 This is a fantastic opportunity for both professional and budding developers to work with an internationally recognized brand.
Palo Alto, CA (PRWEB) May 14, 2013
The creator of the legendary Dilbert comic strip, Scott Adams, has teamed up with Corona Labs on a competition for mobile game developers and enthusiasts. Adams is calling on professional and aspiring developers to create a winning game with Corona SDK, using Dilbert artwork. The contest runs from May 14 through July 12, 2013, with winners to be announced on July 19, 2013.
The Dilbert comic strip is known for its humor around the vices, follies and day-to-day shortcomings of the white-collar office work environment. As one of the most successful syndicated comic strips in history, Dilbert is published daily in more than 2,000 newspapers in over 70 countries. The comic can also be read daily at Dilbert.com.
To qualify for the competition, entries must be built with Corona Labs' Corona SDK or Corona Enterprise. The game must take place in the Dilbert universe and include content of an ESRB "E 10+" or MPAA "PG" rating. Corona Labs' panel of judges will rank each submission and present the top entries to Scott Adams. For the grand prize, one lucky participant will have an opportunity to publish the winning Dilbert game to major app stores. Additional prizes include yearlong subscriptions to Corona SDK Pro (valued at $599), iTunes gift cards and more.
"This is a fantastic opportunity for both professional and budding developers to work with an internationally recognized brand," says David Rangel, COO of Corona Labs. "Building with Corona SDK Starter, which is completely free, Corona SDK Pro or Corona Enterprise, participants can create a truly impressive mobile experience in a short amount of time. We wish everyone the best of luck and we're looking forward to seeing some amazing games."
As a developer-friendly solution for cross-platform mobile development, Corona SDK powers over 27,000 apps and games for iOS, Android, Kindle Fire and NOOK. The platform is used by more than 250,000 developers around the world, including professionals, indies, major game studios and global agencies.
For more information and a complete list of rules and guidelines, please visit: http://www.coronalabs.com/dilbert.
About Corona Labs
Corona Labs is a venture-backed mobile software company based in Palo Alto, CA. Corona Labs' products, the award-winning Corona SDK, Corona Enterprise and Corona Cloud, democratize app development by empowering developers, from independents to large studios, to create cross-platform applications, games and eBooks for iOS™, Android™, Kindle Fire®, and NOOK™. Boasting a community of over 250,000 developers worldwide, apps created with Corona now have more than 1,600,000,000 sessions each month.