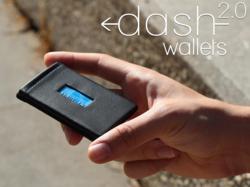 A better, leather quickdraw wallet for minimalists. Carry the things you need, and access them easily.
San Francisco, CA (PRWEB) May 15, 2013
Dash 2.0 is much faster than the average wallet. It only weighs .23 oz. Dash 2.0's minimal design makes it convenient to take anywhere, from the gym to coffee runs. It features 3 compartments. 2 for cards; a quick draw slot, and a second compartment for carrying other cards and IDs.
After launching the original DASH, Steven Elliot and his team is ready to create this second line with more durable materials at a lower cost. They've spent months improving and developing this wallet based on people's input, so they think users will really like it.
The Kickstarter fundraiser was introduced to launch this line of wallets. The funds raised will be used for manufacturing, packaging, and logistics for DASH 2.0. It was able to reach its funding goal of 10,000 within 10 hours. It has about 50 days to go.
What's new about the 2.0? DASH 2.0 features a new, more durable elastic made from recycled fibers. It stretches in any direction unlike most wallets made with elastic band, which stretches in only one direction. It is complimented with a leather front side for a durable QuickDraw slot.