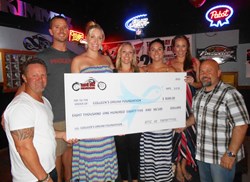 It was amazing how many riders showed up to honor her mother, Colleen Drury, the inspiration for Colleen's Dream Foundation. Nicole Cundiff
Phoenix, AZ (PRWEB) May 14, 2013
Over 300 motorcycle enthusiasts and friends of Colleen Drury, joined Ride AZ Promotions on March 24, 2013 for Colleens' Dream Ride, a motorcycle ride and auction that raised over $8,000 to support Colleen's Dream Foundation, according to Billy Cundiff, President of Colleen's Dream Foundation.
"Cory and Dave at Ride AZ Promotions were incredible," says Billy Cundiff. "They put together an amazing event and we couldn't be more grateful. Colleen loved to ride her bike, so having a ride in her honor was very fitting. We look forward to making this a yearly event."
Nicole Cundiff, Executive Director of Colleen's Dream Foundation– and wife of Billy Cundiff – says it was amazing how many riders showed up to honor her mother, Colleen Drury, the inspiration for Colleen's Dream Foundation.
"Seeing over 300 bikers ride in honor of our mom and our foundation, was overwhelming," says Nicole Cundiff. "The Arizona biker community has been incredibly generous and supportive. We are looking forward to next year."
Dave Six & Cory Donaldson, founders of Ride AZ Promotions, say they could not be happier with the results of Colleen's Dream Ride. They say the success of the event goes to the riders, guests and the sponsors.
"Colleen's Dream Ride in honor of Colleen Drury and her support of the early detection of ovarian cancer was a huge success with over 300 riders and guests participating," says Six. "It was great to have Kimmyz on Greenway, sponsor the check presentation evening with live music by local musician Jared Blackstone."
"It was wonderful to be able to present a check for one hundred percent of the proceeds from the event for a total of $8,185 to Colleen's Dream Foundation," says Donaldson. "During the check presentation, Mark J. Smith, owner of Mark's Printing & Graphics in Phoenix, actually presented another $500 donation. It's only fitting that Ride AZ Promotions thank all of their sponsors and the motorcycle community for their continued support of our charity fundraising events."
The money raised from Colleen's Dream ride goes directly to Colleen's Dream Foundation, which supports research for early detection and improved treatment for ovarian cancer.
According to Billy Cundiff, the Foundation was started in 2007 after his mother-in-law, Colleen Drury, was diagnosed with late-stage ovarian cancer. Through her journey fighting her cancer, Colleen and her family became aware of a new world filled with invasive surgery, harsh chemotherapy, and lots of uncertainty.
"Ovarian cancer is often referred to as 'the silent killer' because many women do not discover their disease until it is in the late stages," says Billy Cundiff. "This leads to many women succumbing to the disease within a short period of time. Unlike cervical or breast cancer, ovarian cancer does not have a standardized early detection procedure. The goal of Colleen's Dream Foundation is to change that."
Billy Cundiff says Colleen's Dream Foundation has taken the first step towards this goal, by making its first ovarian cancer research grant of $10,000 to Johns Hopkins University, on May 08, 2013, to celebrate the first-ever World Ovarian Cancer Day. The grant was given as seed funding to a young investigator at Johns Hopkins working on cutting-edge ovarian cancer research.
ABOUT RIDE AZ PROMOTIONS:
Ride AZ Promotions is group of local motorcycle enthusiasts who put on three to four charity events each year. It was started by Dave Six and Cory Donaldson, after Six lost his younger brother to Melanoma.
Go here to learn more about Ride AZ Promotions.
ABOUT COLLEEN'S DREAM FOUNDATION:
Colleen's Dream Foundation was created to raise money for research that will lead to education about, early detection testing of, and the improved treatment for, ovarian cancer. The Foundation believes that so little is known about ovarian cancer in proportion to other women's health issues that there is an incredible opportunity for research and education.
Go here to find out more about Colleen's Dream Foundation.
Colleen's Dream Foundation is a qualified 501 (c)(3) tax exempt non-profit organization based in Phoenix, Arizona.