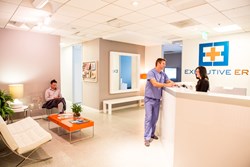 At Exer - More Than Urgent Care clinics patients have access to Emergency Medicine doctors without the hospital wait.
Calabasas, California (PRWEB) May 15, 2013
Dr. Cherlin Johnson announced the opening of the new Calabasas location of Exer - More Than Urgent Care medical clinics today. The original Exer in Beverly Hills first made waves when it opened six years ago with a revolutionary offering: easy access to board-certified Emergency Medicine doctors without the hospital wait.
Dr. Johnson has significant experience in the field, working as an ER physician in the emergency rooms at both Los Angeles County and Cedars-Sinai hospitals before founding the first stand-alone Executive ER. "At LA County and Cedars I was seeing serious life threatening injuries come through the doors every few minutes, while the patients with non-life threatening conditions had to wait for hours just to be seen," explained Dr. Johnson. "I started to look into it and found that over 70% of what comes into the average hospital emergency room isn't life threatening, but there wasn't a facility designed to treat that large majority of people who aren't dying but still need quality care fast." And thus Exer - More Than Urgent Care was born.
Exer differentiates itself from traditional urgent care clinics by staffing board-certified Emergency Medicine doctors, as opposed to other physicians or medical providers who may have less experience with these types of patients. "What's amazing is how well received we've been by the entire healthcare community," stated Dr. Johnson. "Hospitals like us because we're lightening their load so they can give proper attention to patients in critical condition. Specialists and other independent physicians like us because we're a treatment resource for their patients when they can't see them or need attention outside the physician's specialty. Insurance companies like us because we can treat their patients with non-life threatening injuries and illness with the same level of care as the hospital can. And patients like us because we're usually a lot faster and more hands-on than their past urgent healthcare experiences."
With an on-site pharmacy, diagnostic lab, X-ray, and full suite of additional services, Exer is truly a one-stop healthcare shop. And with its slick, modern design it feels like it was designed by a suave hotelier rather than an ER doctor.
According to Dr. Johnson, "We're attempting to do something big here, one patient at a time. The healthcare revolution isn't going to just be about properly taking care of patients. It's going to be about creating an experience that inspires patients to participate in the process and take care of themselves as well."
ABOUT EXER - MORE THAN URGENT CARE
Exer clinics are modern medical facilities specializing in treating non-life threatening conditions. They are staffed by board certified Emergency Medicine doctors and their expert teams. Exer clinics offer a variety of medical services including pre-operative consults, respiratory therapy, digital x-rays, EKG, spirometry, general physicals, sports physicals, on-site lab work, referral to general practitioners and specialists, IV antibiotics, referral for MRI and CAT scans, travel vaccinations and more. They accept most PPO insurances and offer affordable cash pay options as well.