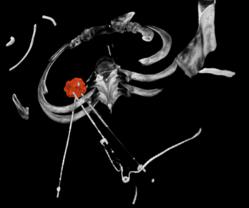 This real-time approach removes guesswork, improves accuracy, and reduces procedure time ...
New York, NY (PRWEB) May 16, 2013
INTIO, Inc. is introducing TipTRAC™, a new and significant feature of its 510(k) cleared ClearStart SVM™ system at the World Congress of Interventional Oncology in New York, May 16-19, 2013. TipTRAC™, used in CT-guided ablative therapies, allows the physician to visualize in 3D the position of the ablation needles relative to the outlines of the tumor selected for ablative treatment, whether the needles were positioned by EM navigation or by free hand. This "real time" visualization allows the interventional radiologist to determine if needles need to be repositioned or if an additional needle is required; this can be determined prior to the device being energized. Such a thorough approach improves the targeting of the ablation zone and enhances the interventional radiologist's ability to encompass the tumor plus an adequate margin surrounding the tumor.
Jorge A. López, VP of Sales and Marketing for INTIO said, "We announced SyncVIEW™ in January this year which provides the interventional radiologist the unique ability to view the segmented target lesion in conjunction with the post-treatment ablation zone, intra-procedurally. With TipTRAC™ the ClearStart SVM™ system now adds the ability to determine the likely ablation defect that can be achieved with the final needle placements. This real-time approach removes guesswork, improves accuracy, and reduces procedure time while enhancing confident decision-making in percutaneous CT-guided ablation procedures," López concluded.
ClearStart SVM™ is installed at major cancer centers across the US. Delivery of the TipTRAC™. Software upgrade will begin in June 2013.
ABOUT INTIO
INTIO is a venture-backed company founded in 2005, based in Broomfield, Colorado.
The company's focus is on all interventional oncologic therapies including surgery, ablation, chemoembolization or radioembolization, as well as palliation for pain.
For more information, contact Debi Davis at Debi(at)3DDebi(dot)com, and visit the intio.us website. INTIO will be demonstrating the ClearStart SVM™ System, and the SyncView™ and TipTRACTM features at the WCIO Symposium, in Booth #16.