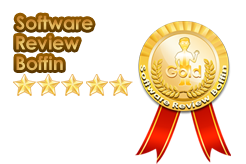 The team awarded Ultimate Typing high marks in terms of functionality, effectiveness, and quality of instructions.
New York City, NY (PRWEB) May 24, 2013
Ultimate Typing is by far the "best" typing software available in the market, stated the Boffin team in their latest touch typing software review. The expert reviewers at Software Review Boffin were highly impressed by the unique features offered by Ultimate Typing and believe that this software deserves the first place ranking within the touch typing software category.
Ultimate Typing was closely followed by UltraKey and TypingMaster Pro with Satellite, with these last two products being awarded the second and third place rankings respectively. In their latest reviews of typing software, the Boffin team noted that although the other two top products also scored high marks in various categories, Ultimate Typing offers its users a compact package containing a range of quality features, and this allowed the software to beat its competitors with relative ease. The team remarked that it will continue to reassess Ultimate Typing and its competitor products on a regular basis in order to ensure that they continue to be worthy of their current placement.
The team awarded Ultimate Typing high marks in terms of functionality, effectiveness, and quality of instructions. The team was specifically impressed by the user-friendly interface of the software and the review explicitly mentions that Ultimate Typing is the "user-friendliest program" the team has seen to date.
The Boffin team believes that the cutting edge technology integrated within the software has allowed it to gain a competitive edge in the market. The review further highlighted the extensive range of features offered by the software, including monitoring technology, adaptable learning exercises, and support for multiple users. For Boffin, Ultimate Typing is extremely beneficial as it allows users to hone their typing skills quickly, which will in turn allow them to realize benefits in terms of enhanced productivity and earning capacity.
Software Review Boffin is a reputed review site where software products are evaluated at regular intervals. Boffin explicitly states that the current placements are subject to change based on changing market conditions.
Software Review Boffin reviews the latest technological products in demand on the market right now. They provide expert, honest and straightforward reviews so customers can objectively measure if a product, especially software is well worth it before making their purchase.
To learn more about Software Review Boffin visit http://www.softwarereviewboffin.com.