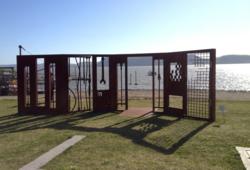 Ossining has a rich and storied history. The sculpture exhibit sets incredible new works of art against a beautiful backdrop of Victorian architecture seen in our homes, buildings and churches.
Ossining, NY (PRWEB) May 14, 2013
On Sunday, May 5, a crowd of several hundred people gathered at the Village of Ossining Municipal Building to celebrate the opening of the Ossining in 3D bicentennial sculpture exhibit with a special meet-the-artist reception. The 25-piece outdoor exhibit, open to the public from May 5, 2013 through October 26, 2013, weaves through the Village's historic buildings and downtown waterfront area.
The six-month juried exhibition will provide direct and free access to art for thousands of residents and visitors. "Ossining has a rich and storied history," shared Village of Ossining Mayor William Hanauer. "The sculpture exhibit sets incredible new works of art against a beautiful backdrop of Victorian architecture seen in our homes, buildings and churches. We should all take pride in our Village, past and present, as we embark on an exciting future ahead."
Fifteen of the twenty-four exhibiting artists attended the reception. In addition to hors d'oeuvres and refreshments sponsored in part by Beldotti Management – Mike and Alex Beldotti, guests enjoyed jazz chamber music provided by local Ossining High School students, baked goods from local Ossining bakeries, as well as floral arrangements Han Ooi from "Signature Florals by Ooi" sponsored in part by Lizzfitness.
"Ossining is really the place to be," said George Camp, Bicentennial Committee Chairman. "So many people had a hand in making this sculpture exhibition a reality – the local government, bicentennial sponsors, and a number of very devoted volunteers. It has truly been a community effort and we look forward to sharing these magnificent sculptures with thousands over the months ahead."
The length of the sculpture walk is approximately 1.5 miles with on and off-street parking available. Beginning Saturday June 1, and on the first Saturday of July through October, docent-led walking tours will be available to the public. The tours will feature the artists and their sculptures, as well as their historic settings and will begin at 81 Croton Avenue at 10 a.m.. Reservations made by phone at 914-762-6232 or by email at vmonastra(at)ossbuilding(dot)org. Additional tours may be requested.
Maps for self-guided tours and additional information can be picked up at the Village of Ossining Municipal Building at the Clerk's and Village Manager's office, the Community Center, the Ossining Public Library, and will be available at each sculpture location. Maps are also available online at http://www.villageofossining.org and http://www.celebrateossining.com.
"The Ossining in 3D sculpture exhibit is the culmination of nearly three years of work," shared Ossining Village Manager Richard Leins. "One of several events sponsored by the Bicentennial Committee, the sculpture exhibit furthers the bicentennial theme of 'Honoring its Past – Embracing the Future'. The significant contemporary sculptures set in historic venues are intended to encourage thoughts of the Village's long distinguished history and its bright future."
The 25 sculptures were selected from nearly 100 submissions. Exhibiting sculptors come from across the northeast and beyond, including three artists local to Westchester. Some, including artist Gary Orlinsky, used Ossining as their point of inspiration. Orlinsky's piece, made from wood, paint and saplings, pays homage to the Double Arch, part of the Old Croton Aqueduct that is a landmark of Ossining. "The shape of the top arch is referenced by the horizontal bamboo lines which hint at the aqueduct's brickwork while the lower arch reverses this process with the void defined by the vertical lines," he said.
"The Westchester County Board of Legislators is very happy to support this project celebrating Ossining's rich history," said Westchester County Legislator Catherine Borgia. "Congratulations to all who have contributed to the year-long celebration of Ossining's Bicentennial. We are very lucky to have such a wonderful community in Westchester County."
The Village of Ossining's Bicentennial Celebration is made possible with major support from Ginsburg Development Companies in collaboration with the Ossining Arts Council, Ossining Historical Society and the County of Westchester. Significant additional funding has been provided by General Electric Company, Emigrant Bank, Avalon Bay, Cedar Manor, Inc., Dorsey Funeral Home, Open Door Family Medical Center, Inc., Hudson Valley Bank, The Bethel Methodist Home, Solomon Organization, Arthur J. Gallagher Risk Management Services, Inc., Mahopac National Bank and Club Fit.
For information on "Ossining in 3D" sculpture tours or other upcoming bicentennial events, visit http://www.celebrateossining.com, http://www.villageofossining.org, or contact the Village Manager's Office at 914-941-3554.
About the Village of Ossining
On April 2, 1813, the Village of Ossining became the first incorporated village in Westchester County to be state-chartered. Today, Ossining is a culturally diverse, affordable place to live, rich in both history and natural beauty. Approximately 24,000 people reside in the three square miles of this historic Village on the Hudson River, which boasts extensive shopping, recreational programs, educational enrichment opportunities, and community services. Ossining's role in New York's heritage has been recognized by its inclusion, as one of only 14 areas, in an Urban Cultural Park System designed to attract visitors to the State. With its Bicentennial anniversary in 2013, the Village of Ossining has launched "Ossining in 3D," a yearlong celebration of events designed to honor the Village's past while embracing its future. Visit http://www.villageofossining.org for more information.