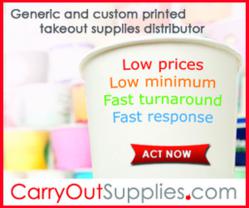 Our volume and customer base put us in a whole other league above our competitors
City of Industry, CA (PRWEB) May 14, 2013
Since opening their doors to businesses and franchises all across the United States, CarryOutSupplies.com have reached 1 billion custom-printed cups sold tailor-made for thousands of businesses in the month of May 2013 .
Through the products and services provided by CarryOutSupplies.com, even small, family-owned and operated stores are able to get unique paper cups, plastic cups, cup sleeves, paper ice cream containers and many other disposable take out supplies custom-printed.
"We don't just claim to be the biggest, cheapest, fastest or with lowest minimum. We simply let our track record speak for itself. What we do is offer our clients the best products for the money. Our volume and customer base put us in a whole other league above our competitors." said Waylon Huang, VP of Operations at CarryOutSupplies.com. "At the same time, we haven't forgotten our roots and how smaller stores helped us build our company. We set the industry standard for the lowest minimum and still have the same low minimum order quantity requirement that we have had since day one."
It took CarryOutSupplies.com less than a decade to reach this milestone and according to Mr. Huang, business is still growing at a healthy pace. But CarryOutSupplies.com is more than just custom-printed supplies. A big part of their business is generic take out supplies. In the last six months, CarryOutSupplies.com has increased the brands and generic products they distribute to include all the possible supplies that a restaurant business might need for their day-to-day operations.
Coffee shops, delis and food-service businesses of all sizes – from mom-and-pop shops to large franchises – can learn more about CarryOutSupplies.com's selection, features and pricing by visiting the company's website. They can also be contacted by calling 888-982-1862 Monday through Friday, from 9am to 6pm (PT).
About CarryOutSupplies.com
CarryOutSupplies.com, the leader in paper and plastic disposable takeout supplies, is dedicated to offering quality products, low prices and reliable customer service. The company started serving the local marketplace in 2004 and expanded its operations in 2007 to serve nationwide demands. Throughout its history, the company has experienced growth every year by maintaining and increasing a loyal clientele, and offering competitive prices and convenience with its free custom print service for custom paper cups and custom plastic cups. Learn more at CarryOutSupplies.com.