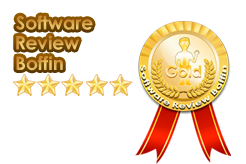 The team believes that TypingMaster Pro with Satellite is worthy of bronze medal and is a "solid" typing tutor program.
New York City, NY (PRWEB) May 26, 2013
Software Review Boffin, a renowned review website, aims to highlight the best products available in the software industry so that readers are able to make informed decisions. The results of the latest touch typing software reviews have recently been released, and the website's review team announced that TypingMaster Pro with Satellite has been awarded the third position. The team believes that TypingMaster Pro with Satellite is worthy of bronze medal and is a "solid" typing tutor program.
In their latest statement, expert reviewers at Boffin explained that the top three picks for touch typing software were determined by mutual consensus of the team members. The Boffin team initially identified the key attributes that touch typing software must have, and rated each product according to the requirements list. While all three picks were classified as "great" and as tools that effectively fulfill their purpose, minute differences in critical features have resulted in the team's decision to rank products at their current placement. However, the team notes that the this placement is subject to change based on continual reassessment of the top three products. Note: Introduction of new features within competitor software and upgrades to functionality might result in the rankings being changed in the future.
These reviews of typing software published at Software Review Boffin detail the key features within TypingMaster Pro with Satellite and highlight that the software offers monitoring and tracking features that allows the user to identify their areas of weakness, helping them go directly to solutions that help them improve skills that require work.
Boffin's review team determined that the ease of use and help and support provided by the software was satisfactory, as TypingMaster Pro with Satellite comes with various support software solutions, and FAQs are also presented on their website.
Reviewers pointed out that despite its strengths, the software is overpriced, and therefore TypingMaster Pro with Satellite fails to provide high value for money. The Boffin team did conclude that apart from this financial issue, TypingMaster Pro with Satellite is "beneficial" and deserves a placement within the top three products.
Software Review Boffin reviews the latest technological products in demand on the market right now. They provide expert, honest and straightforward reviews so customers can objectively measure if a product, especially software is well worth it before making their purchase.
To learn more about Software Review Boffin visit http://www.softwarereviewboffin.com