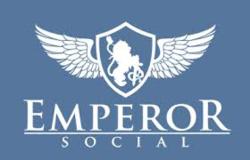 Generate Over 100 Leads a Day
(PRWEB) May 14, 2013
Emperor Social by Martin Crumlish and Greg Jacob, which promises to change the way people create Facebook pages is coming out today, May 14th 2013. Created by a highly successful duo of online entrepreneurs, this drag-and-drop Facebook Page builder comes complete with all the apps and features any business or personal page would ever want to have.
Everyone from a Fortune 500 company to a cafe down the street or a home based business needs internet presence, and especially on social networks. That's why every business seems to have a Facebook page, and always points out to "Like us on Facebook."
A professionally designed Facebook Page is a must in these days. There is much more to a Facebook Page than meets the eye and Emperor Social has it covered. Behind the pretty background, pictures and comments there is a well oiled machine that keeps everything in check.
Emperor Social was developed with the idea of making professional FB pages as easy as dragging and dropping all the items you need. This way there is no need to write any code or even know HTML. All of this is created using the Emperor Social software by following a simple blueprint.
Emperor Social takes away the need to hire a professional designer or freelancer to create pages that cover all the needs of a business.
Emperor Social helps a page go viral by taking care of the design and including such features as promos, coupons, contests and so on. It also can make use of that traffic by redirecting it, generating leads, opt-ins or further spreading your content. To find out more check out a full Emperor Social Review at: http://emperorsocialreview.biz/