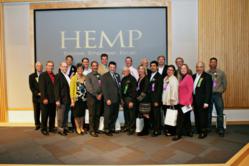 Nowhere else can you find a program that offers a three-year, personal and confidential commitment to focus solely on your success.
Kansas City, MO (PRWEB) May 14, 2013
The Roasterie. Alaskan Fur. Indigo Wild. emfluence. InkCycle.
These are just a few of the fast-growing, award-winning companies who have benefitted from the Helzberg Entrepreneurial Mentoring Program (HEMP). HEMP is the only one-to-one, facilitated mentoring program for established entrepreneurs in the Kansas City metropolitan area. HEMP's intensive three-year program helps business owners take their growing companies to the next level.
The program's success speaks for itself. "HEMP businesses are experiencing steady growth," said Dan McDougal, HEMP's board president, HEMP graduate of the Class of 2000, and owner of Dredge America. "Our research indicates that HEMP participants average 43% revenue growth and 30% employee growth. Collectively, HEMP has contributed $748 million to the Kansas City economy over the last eight years."
Since 1995, more than 200 business owners have completed the HEMP program. And yes, these successful businesses are more than proud to be "high on HEMP" and the benefits of its renowned mentorship program.
"HEMP is one of the support systems that has given Kansas City a head start in the race to become the most entrepreneurial city in America," said Kansas City Mayor Sly James.
As Kansas City's profile magnifies as an entrepreneurial leader in the U.S., HEMP has decided to expand the number of applicants it typically accepts. This year, HEMP will accept up to 20 mentees and up to 10 mentors. HEMP is now accepting mentee/mentor applications for the HEMP Class of 2013. The application deadline is August 1, 2013. HEMP's research indicates that more than 6,000 growing businesses throughout the metropolitan area are eligible for the program.
POWER OF MENTORING
For each of the past 18 years, HEMP has matched owners of high potential companies ("mentees") with A-list, veteran business leaders ("mentors") from the Kansas City community. The careful, time-tested matching process takes into account the strengths and weaknesses of mentees and their desire to grow to find a suitable mentor to help guide them to the next level.
HEMP was founded in 1995 by Barnett C. Helzberg, Jr., former owner and CEO of Helzberg Diamonds, who was inspired by his 23-year mentoring relationship with the late Ewing Marion Kauffman, founder of Marion Laboratories Inc. and the Kansas City Royals. With a firm belief in the power of mentoring for business success, Helzberg acted on his idea to formalize the mentor experience as a way of "paying it forward" to help other businesses succeed.
"The mentoring relationships I experienced throughout my business career made a significant difference in the choices I made for myself and for my business," said Helzberg. "I invite anyone who wants to grow their business to apply to the program that represents the best of Kansas City's entrepreneurial spirit."
SCALABLE SUCCESS
HEMP's approach is unique among mentoring programs across the country. HEMP focuses on helping entrepreneurs between the start-up and mature phases to achieve scalable growth. Launching startups involves ideas, passion and energy. Yet, expanding an established business demands another level of expertise and guidance for business owners.
Currently, there are over 140 CEOs participating in the program as a HEMP mentor, mentee or fellow (a mentee graduate of the program).
"HEMP is different from other mentor programs in that it invests in a long-term approach to take growing businesses to the next level," said Scott King, CEO of the Kendal King Group, HEMP board member and HEMP graduate of the Class of 2007. "Nowhere else can you find a program that offers a three-year, personal and confidential commitment to focus solely on your success."
Today, HEMP is recognized as a national model, with other cities seeking HEMP's experience to create similar entrepreneurial mentoring programs in cities across the country. Recently, HEMP was invited to serve as an expert source on a roundtable discussion led by the United States Senate Committee on Small Business and Entrepreneurship chaired by Senator Mary Landrieu. "The Helzberg Entrepreneurial Mentoring Program has grown to become one of the premier entrepreneurship support and learning programs in the country," said Michie P. Slaughter, chairman and president (retired) of the Kauffman Center for Entrepreneurial Leadership.
HOW IT WORKS
HEMP is a formal, three-year mentoring program, available by application only. The application process includes an interview to help determine an overall fit with the program, as well as a business site visit. Once accepted, each mentee is matched with a mentor through a careful selection process that ensures good "chemistry" to foster a positive learning environment.
In addition to one-to-one mentoring, the program includes up to 20 events/meetings per year including an annual retreat, a participant appreciation event, field trips to entrepreneurial locations of interest, and educational programs. HEMP facilitates communications between the mentor and mentee without dictating the dynamics of the relationship.
To qualify as a HEMP Mentee, prospective candidates must have:

Operated as the sole, ultimate decision maker of the business for a minimum of 3 years (only one mentee per company may be accepted into HEMP)
Annual revenues around $1 million and poised for growth
A minimum of 5 full-time employees
A desire to substantially grow their business
Internal and external integrity as a business owner
Willingness to invest time to meet with their Mentor a minimum of 2 times per month and attend 75% of HEMP events
Prospective HEMP participants must complete an application, an interview, a self-assessment and host a business site visit. The knowledge gathered from this process helps HEMP determine compatibility to personally match each mentee with the most appropriate mentor.
To participate as a HEMP Mentor, individuals must:

Be a veteran business owner or a top-level executive
Have a willingness to openly share their business knowledge, both successes and failures
Be willing to meet one-to-one with a mentee at least twice per month
Be willing to attend 50% of HEMP networking programs, including the annual retreat
HEMP mentors generously volunteer their time, while the cost for HEMP mentees to participate in the three-year program is $4,000 annually, with a one-time application fee of $150. The application deadline for the next HEMP Class of 2013 is Thursday, August 1. More information, including application forms, available for download at http://www.helzbergmentoring.org.
ABOUT HEMP
The Helzberg Entrepreneurial Mentoring Program (HEMP) is dedicated to strengthening entrepreneurial leaders through excellence in mentoring. Founded in 1995 by Barnett C. Helzberg, Jr., former owner and president of Helzberg Diamonds, HEMP is a 501(c)(3) nonprofit organization based in Kansas City, Missouri. HEMP was inspired by Helzberg's 23-year mentoring relationship with the late Ewing Kauffman, founder of Marion Laboratories Inc. and the Kansas City Royals. To learn more about the HEMP program or to inquire about applications to become a HEMP mentee or mentor, contact Christina Friederichs at 816-417-HEMP (4367) or visit http://www.helzbergmentoring.org.
###