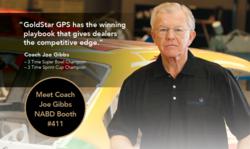 Coach Joe Gibbs - known for building championship teams through game-changing strategies.
Las Vegas, NV (PRWEB) May 15, 2013
Spireon, the leading innovator of Mobile Resource Management (MRM) and Business Intelligence Solutions that connect companies to their mobile assets and workforces, invites 2013 NABD Conference attendees to attend the event's keynote presentation hosted by Coach Joe Gibbs on Wednesday, May 22 from 2:30PM – 3:15PM.
Spireon's spokesperson, Coach Gibbs is also the current owner of three-time NASCAR championship Joe Gibbs Racing teams, the former three-time Super Bowl-winning head coach of the Washington Red Skins, and an NFL Hall of Famer. His keynote address is scheduled to start at 2:30PM in the main exhibition hall of the NABD BHPH National Conference held this year at the Wynn in Las Vegas.
"Coach Gibbs is a renowned strategist, a savvy entrepreneur and a highly engaging speaker," says Brad Jarvis, Spireon's Chief Marketing Officer. "Spireon has benefitted tremendously from Coach Gibb's partnership, product endorsement and overall experience as a winning coach and a successful business owner, and so will members of the automotive finance industry who attend the keynote session he'll be hosting. It will be well worth your time to stop by."
Coach Gibbs' keynote introduction will focus on the importance of having the right game plan, the right partners and the right technology to succeed in today's highly competitive vehicle finance market. He will be drawing on his past experiences as a Super-Bowl winning head coach as well as owner of a championship racing team, and may even reveal some of Joe Gibbs Racing's latest racecar technologies to shed light on what it takes to develop a winning strategy in business.
Just before his keynote address, Coach Gibbs will also be available at Spireon's GoldStar GPS booth number 411 for autograph signings and photo opportunities with attendees. Coach Gibbs will be at the booth from 1:00 PM – 2:00 PM before heading to the main stage. Spireon invites all attendees to stop by to meet the living legend in person.
For more information about the NABD BHPH National Conference, visit BHPHInfo.com.
About GoldStar GPS
Spireon, the largest provider of automotive aftermarket embedded telematics, supplies a wide range of automotive business intelligence solutions. Spireon's GoldStar GPS, EnfoTrace GPS and LoanPlus CMS information platforms connect automotive dealers and lenders to real-time vehicle information they need to expand their auto loan portfolios and provide financing for a broader range of customers. The real-time rich data also helps protect vehicle assets, reduce risk, decrease costs to drive the bottom line while also providing positive consumer impact.
For more information, visit Spireon.com.
About Spireon
Spireon, Inc., is at the summit of business intelligence and committed to going higher. With its technology center in Irvine, CA and its corporate headquarters in Knoxville, TN, the company emerged in 2011 as the industry leading Mobile Resource Management (MRM) company as a result of the merger of ProconGPS, Inc. with EnfoTrace and PFS, LLC, the top three providers in the MRM space. Spireon connects companies to their mobile assets and workforce through game changing information platforms, giving them the power to manage actionable business intelligence. Its trusted brands include market share leader GoldStar GPS®,EnfoTrace GPS™, FleetLocate®, VehiclePath™ and LoanPlus CMS™. Inspiring companies to reach new heights with powerful Software-as-a-Service (SaaS) based tools; Spireon provides a sturdy foundation on which to optimize performance.
With leading market positions in the fleet, transportation and automotive telematics markets, Spireon, Inc. specializes in developing strong business relationships with leading companies worldwide, enabling it to offer affordable world-class risk mitigation, mobile resource management and location based services to its customers. NSpire, Spireon's award-winning revolutionary, new multi-vertical M2M intelligence platform provides real time analytics, through a scalable architecture, supports over 1.5 million active subscribers today, and has collected 2 billion events over the past year. The NSpire intelligence platform collects rich data from its patented array of GPS products and delivers actionable business intelligence through industry brand for automotive dealers, lender services and delivery fleets, and transportation and logistics customers.
For additional information, please visit Spireon, Inc.'s website Spireon.com.
Media Contact:
Corinna Tutor
949-422-7103
ctutor(at)spireon(dot)com