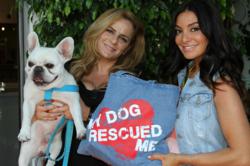 "Here at Steps4Paws we believe that every dog deserves a loving home with compassion and respect. That is why we have made it our purpose to help save lives, one dog at a time" - founder Vered Nisim
Los Angeles, CA (PRWEB) May 14, 2013
Celebrities and their dogs attended a VIP Fashion Rescues event at Fred Segal Ron Robinson along with Steps4Paws, where we united the world of fashion and celebrities to support dog rescue. Many celebrity dogs, including Mario Lopez's dog, Julio, attended for an afternoon of doggy treats, play time and to show their support for rescue dogs while their owners got to sip on champagne and shop the new collection of innovative graphic tees for men and women including the "My Dog Rescued Me" and "The Loyal and True" collection.
Steps4Paws supporters include Frank Stallone, George Lopez, Gilles Marini, Barbi Twins, Scott Clifton star of "The Bold and The Beautiful", Ken Wahl, Mario Lopez, Brandon Russel, Jax Taylor, Carolynn Hennessy, Razon, Kaitlyn Jenkins, Tia Barr, Eric Roberts, Emma Roberts, Penny Marshal, Charlene Tilton, Jenni Woww, Roger Mathews, among many other animal lovers.
Celebrities and their furry friends left the event with the coolest swag including custom Kate Mesta's "My Dog Rescued Me" Dog Tags, Kambucha Dog, custom Steps4Paws Retractable Leashes By Chromebones, Finder Codes PetId, doggy bowls with Natural Balance dog food and their favorite "My Dog Rescued Me" denim bag.
The event was a huge success, supporters came in by the dozens, with a sold out Steps4Paws collection within the first 2 hours. Raising money and awareness for Best Friends NKLA.
On hand was the dedicated NKLA team with adorable puppies up for adoption, 3 of which were immediately adopted on site, finding their forever homes. First dog adopted at Fred Segal Ron Robinson event was named "Fred".
Steps4Paws fashion forward collection features innovative designs that are sure to spark attention and raise awareness for the cause. Steps4Paws donates partial proceeds from the sales of these shirts to national and local rescue organizations including Best Friends NKLA. You can be fashionable and save lives at the same time – what can be better?
Steps4Paws mission is to unite the world of fashion and celebrities to support dog rescue organizations, raising awareness and educating the public on adoption vs buy and spay/neuter programs. "Together we will make a difference," says S4P founder Vered Nisim.