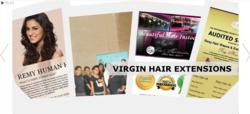 (PRWEB) May 14, 2013
RosyHair.co.uk has recently released its new arrivals, Brazilian virgin hair collection and virgin Indian hair weave collection. Today, the company announces great discounts on all these new hair extensions, up to 75% off. According to James Landis, CEO of the company, the promotion will end at the end of this month.
RosyHair.co.uk is a well-known online store offering various kinds of virgin hair extensions and micro loop hair extensions. The hair extensions from RosyHair.co.uk have never been chemically treated. The new products are no exception. Now, all these hair extensions are available at greatly discounted prices. Take one of the hair extensions (called "16 inch #1B OFF Black Clip In Brazilian Virgin Hair Extension Straight", item code: BCI1301004) for example: It was previously priced at $179, and now offered at a new low price of $69.
"We are excited to introduce our new products and launch the promotion to make our designs available to more customers. Our extensive selection of hair extensions allows you to find a suitable one at affordable prices," says, James Landis, CEO of RosyHair.co.uk. "Please note that the promotion is a limited time only. Those who want to buy high quality cheap hair extensions should visit our online store as soon as possible."
James Landis adds, "We especially recommend our Indian virgin hair weaves.
Indian virgin hair is highly recommended for the best hair extensions due to the fact that it has never been chemically processed through bleaching and coloring."
About RosyHair.co.uk
Founded in 1985, RosyHair.co.uk is dedicated to bringing hair fashions to a new level of choice and sophistication. RosyHair.co.uk has researched the market thoroughly before they introduced their hair extensions on the Internet. The company strives to satisfy their customers with superior quality hair products along with valuable customer support.