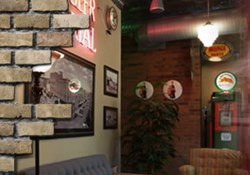 Superior patient care in a relaxed, friendly environment.
Bismarck, ND (PRWEB) May 14, 2013
Custom Endodontics has opened its doors to a new office location in Minot, North Dakota, to serve clients in the growing areas of Minot, Williston, and surrounding areas. With a home office in Bismarck, ND, Custom Endodontics provides superior patient care in a relaxed, friendly environment.
In 2012, the doctors at Custom Endodontics noticed that a growing number of patients in the northern areas of the state were driving long distances to receive endodontic care. In response to this need, Dr. Nathan Wayment and Dr. Steve Osmond began searching for an office location that would be more convenient for their patients. They opened the Minot location shortly thereafter.
This willingness and ability to respond to unmet client needs is not only a key factor in the establishment of the Minot office, but it is also at the foundation of Custom Endodontics's culture, according to Dr. Steve Osmond:
"After working in the field of Endodontics for several years, I was committed to joining a practice that upheld only the highest standards in quality and service to patients. Dr. Wayment and I designed a practice that would directly respond to patients' needs by using the latest technology (such as Pro-ergo microscopes, 3-D Cone Beam digital images, and Total Digital Office software) and streamlining administrative tasks so we could take extra time caring for the needs of each individual patient."
"Our mission is to provide excellent endodontic care while making you feel comfortable and relaxed," adds Dr. Wayment. "We are excited to open the Minot office to provide more convenient hours and relief from a long drive for many of our patients. Dr. Osmond and I share the same dedication to excellence and are looking forward to serving patients in the Minot area for many years to come."
To schedule an appointment with Dr. Steve Osmond or Dr. Nathan Wayment at either location, please call the Bismarck office at 701-255-2523 or 800-577-2523. For more information, please email customendo(at)midconetwork(dot)com or visit http://www.customendo.com.
About Custom Endodontics
Custom Endodontics is a dental service provider dedicated to providing superior endodontic care. With practices in Bismarck, North Dakota, and Minot, North Dakota, Custom Endodontics uses state-of-the-art equipment and technology to provide the highest-quality root canals for patients. The Bismarck office is located at 521 East Main Avenue, Suite 100, Bismarck, ND, 58501. The Minot office is located in the Medical Park Professional Building at 601 18th Avenue SE, Suite 202, Minot, ND, 58701. For more information, please call 701.255.2523, email customendo(at)midconetwork(dot)com, or visit http://www.customendo.com.