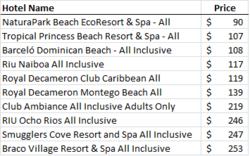 (PRWEB) May 14, 2013
The results are in and Punta Cana, Domincan Republic ranks as the cheapest location for all-inclusive resorts over Memorial Day weekend.
Hotelscheap.org recently conducted a study to determine where vacationers can go this Memorial Day weekend to find the cheapest all-inclusive resorts. The study was conducted over a 3 month period beginning in March and ending on May 14th. All-inclusive resorts were priced each month for Memorial Day weekend to determine which resort had the cheapest overall rate, and to determine which destination on average had the best deals.
Punta Cana in the Dominican Republic had the lowest priced all-inclusive resorts by a wide margin, with an average price per night of $106 per night. St. Lucia had the highest average price with an average per night charge of $793. Emerald Bay, Bahamas has the distinction of having the most expensive all inclusive resort with a per night price tag of $2012.
In fairness, the resorts in the Dominican Republic had lower star ratings, and had a lower guest rating than those found in St. Lucia, or in the Bahamas. If you are budget minded however, and you are looking for a quick weekend away for a discount price, Dominican Republic appears to be the place to go this Memorial Day weekend.
The cheapest all inclusive resort was the NaturaPark Beach EcoResort & Spa, coming in with an avg per night price of $90. In the heart of Punta Cana, Dominican Republic this resort is a 3 star, and has a guest rating of 3 out of 5. 57% of guests say they would recommend this property. This may not qualify as a luxury resort, but you definitely can't beat the price of $90 / night, including all you can eat and drink.
To read more about the cheapest all-inclusive resorts in the Caribbean over Memorial Day weekend, visit hotelscheap's study.
Methodology:
Hotel prices were measured over a three month period, pricing Memorial weekend stays on March 14, April 14, and on May 14. Hotels may charge a different rate, depending on availability, and seasonality. The average price was taken for each period, and combined to determine the average rates above. Only hotels / resorts that were all-inclusive were included in the study. Resorts with a minimum star rating of 2 were included.