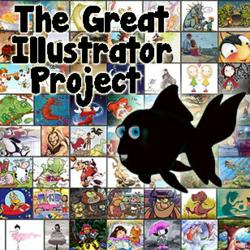 We can't all be great artists, but everyone has a story to tell!
Albuquerque, NM (PRWEB) May 14, 2013
Customizabooks LLC today announced that it has launched a Kickstarter project called "The Great Illustrator Project". The project features a group of 42 of the best children's illustrators, who will create artwork for the upcoming Blackfish Story Creator App.
For a pledge of $25, Kickstarter contributors will be able to use ALL of the developed artwork in creating and distributing their own stories. The app will be easy to use, yet powerful, as it is built on the most sophisticated book engine on the market. Kids and adults alike can easily place backgrounds, characters, text, animations, and other book elements within the app.
The Great Illustrator Project (#TGIP) represents an innovative approach to the flourishing crowdfunding movement. In many Kickstarter projects, when you pledge money you get a physical thing (a water bottle, a watch, etc). Then, it doesn't matter how much the project raises above the minimum - whether it is $500 or $500,000, you still just get your item. In contrast, TGIP is focusing on incremental growth, known in the community as Stretch Goals, particularly where each person who pledges is contributing to the rewards that everyone else receives. The power of this concept applies to other crowdfunded projects such as video games or movies, where the end result is better for everyone, the more money that is raised. However, TGIP is the first Kickstarter project where creating incremental illustrations to be used by contributors, is the main focus from the beginning.
"The Great Illustrator Project is a really exciting idea," said Tom Anderson, Managing Partner. "The project becomes more and more powerful, as we raise more money. Kids will get a fun app that allows them to unleash their creativity while encouraging writing, reading, and education. Parents and kids can create professional looking bedtime stories together. As the project grows and our image library gets bigger, the Blackfish Story Creator App will become a multi-platform tool for authors to create and distribute their books. I think there is a huge unmet demand for an easy to use app with a large amount of quality art for the large and rapidly growing self-publishing market. We can't all be great artists, but everyone has a story to tell!"
Details on the project can be found at:
http://www.customizabooks.com/TGIP/tgip.php
About Customizabooks
Customizabooks develops, licenses, and publishes interactive digital books. Blackfish Children's Books is a free app to download and read Customizabooks' books. For more information visit:
http://www.customizabooks.com
http://www.facebook.com/customizabooks
http://www.twitter.com/customizabooks
http://www.pinterest.com/customizabooks
http://www.youtube.com/tomlucient