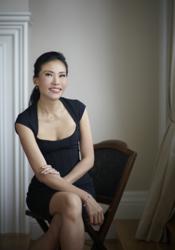 Bangkok, Thailand (PRWEB UK) 15 May 2013
Thailand's most innovative, awarded and pioneering boutique hotel group, The AHMS Collection, today announced plans to open a unique destination spa and retreat on Koh Krabeay, a pristine private island in Cambodia in Q2, 2015.
AKARYN Koh Krabeay Retreat & Spa will feature cutting-edge anti-aging treatments, advanced meditation techniques, yoga for connoisseurs of the practice, latest thinking on harmonious living in nature and other advanced therapies as part of its unique offerings.
This follows the election of AKARYN Hospitality Management Services (AHMS) founder and owner Anchalika Kijkanakorn as Chairman of Small Luxury Hotels of the World (SLH), making her the first woman and also the first Asian to hold the prestigious position, heralding an era of Asian expansion for The AHMS Collection.
AKARYN Koh Krabeay Retreat & Spa will offer an ultra-exclusive spa retreat on its own island, with sustainability and environmental preservation its watchwords. It will feature 40 exquisite and very spacious pool villas on Koh Krabeay, one of a chain of emerald islands accessible from the seaside town of Sihanoukville by luxury speedboat in less than 20 minutes.
Ms Kijkanakorn said she envisaged the retreat becoming the group's flagship property and a leading Asian destination for innovative health and wellness escapes. The retreat's design had been painstakingly crafted so as to allow retention of all the old growth trees on the island while leaving other native flora and fauna unaffected - the ultimate manifestation of the AHMS design philosophy, Outside Living-In.
Ms Kijkanajorn said AKARYN Koh Krabeay Retreat & Spa was scheduled to open in Q2, 2015 and was taking bookings now. "The exciting thing about this project is that it gives us an opportunity to define, refine, innovate and create the ideal destination holistic and medical spa that redefines how we live today and equips the guest with tools they can use upon returning home to incorporate these measures and wisdoms into their daily lives.
"There will be a featured meditation cave, walking meditation practice, and a venerable guru of meditation will be invited to teach on week-long learning," she said. "This is in addition to the organic garden that will feature raw and healthy produce that thrives on the island and environs.
"Guests will be given all the tools in the organic arsenal, the finest technology will be deployed, and we will have the absolute state of the art in terms of weight loss, weight control and reaching your body's desired equilibrium."
All of the AHMS Collection properties are located on 'secret beaches', Ms Kijkanakorn said, requiring guests to take roads less travelled. "AKARYN Koh Krabeay will be the most secret beach yet, a beautiful and intriguing retreat and a true spa destination on its own private island."'
Founded in 2003, the award-winning hotel group has three fully owned resorts in Koh Samui (http://www.akaryn.com), Phuket (http://www.aleenta.com/phuket) and Hua Hin (http://www.aleenta.com/huahin) - as well as the hip adults only akyra Chura Samui, (http://www.theakyra.com) which is operated by the group. All are boutique in size and located on secret beach locations - offering more than a hotel in many cases but also an authentic destination experience.
In 2013, the AHMS Collection recently added to its own impressive collection of prestigious international hospitality accolades with key awards for each of its five star resorts bestowed within less than a month. Through its Pure Blue Foundation, each of the collection's resorts works in marine conservation to benefit its destination in an authentic and heartfelt way, from saving endangered marine turtles in Phang Nga to aiding regeneration of reefs, beachfront beautification and most importantly, educating the next generation on the fragility of marine ecosystems and how to help preserve them.
AKARYN Samui Resort and Spa, the group's current flagship boutique resort on a private beach at Koh Samui's Hanuman Bay picked up Best New Luxury Hotel at the 2012 World Luxury Hotel Awards, as well as making it onto DestinAsian magazine's coveted Luxe List less than a year after welcoming its first guests.
Aleenta Resort and Spa Phuket-Phang Nga, meanwhile, was named the world's Best Small Hotel at the International Hotel Awards in London, described as 'small but perfectly formed' boutique hotel by judges at the glittering presentation dinner at the London Marriott Hotel in Grosvenor Square on November 4, 2012.
The third and founding five star property in the Akaryn Hospitality Management Services (AHMS) collection, Aleenta Resort and Spa Hua Hin-Pranburi, was also amongst the gongs, named Best Luxury Coastal Resort at the 2012 World Luxury Hotel Awards.