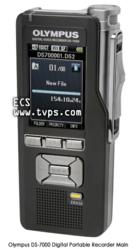 John Dinkel from Executive Communication Systems says "we fully expect the DS-7000 to be as reliable as the DS-5000 was. In the 5+ years that the Olympus DS-5000 was on the market we never received one single unit back for hardware failure."
Ventura, CA (PRWEB) May 16, 2013
The Olympus DS-7000 digital recorder has hit the marketplace at TVPS.com, allowing medical and legal professionals to secure the most advanced portable digital dictation recorder for their work. TVPS, a division of ECS, stands behind their products with sales and service and is excited to introduce the DS-7000 because of its brilliance in offering everything professionals need to streamline workflow and generate even more clear and comprehensible audio files.
The DS-7000 is the most feature rich in a long line of successful professional digital dictation portable recorders from Olympus. The functionality of this unit has surpassed its predecessor the DS-5000 because of the following design improvements to the hardware and software:

A crystal-clear LCD screen makes viewing the 2" screen even more enjoyable. No need to squint when looking at the screen.
Centralized buttons offer quick access to the options you need. Three programmable function buttons located just below the screen for quick fingertip functionality.
Slide switch operation allows the user to concentrate on dictating and not operating the unit.
SD and microSD card slots included. Never run out of available memory.
Easily dock the DS-7000 through a USB connection and upload dictated voice files directly to your computer. Files can be automatically sent via FTP, E-Mail or Network.
"The Olympus DS-7000 Digital Portable Recorder has received the highest possible speech recognition accuracy rating by Nuance for use with Dragon NaturallySpeaking Professional, Dragon NaturallySpeaking Legal and Dragon Medical Practice Edition. Nuance gave the Olympus DS-7000 a perfect six out of six dragons. No other professional digital portable recorder has ever received a perfect accuracy score on any of the Dragon speech recognition products." says Tom Wilkes, of Executive Communication Systems.
Professionals in nearly every field are using the Olympus DS-7000: healthcare, public safety, business, journalism, law, etc. Professionals prefer the DS-7000 because of the capabilities and functionality they are provided and the combination of intelligent software and sleek hardware.
The Olympus DS-7000 sets a new industry standard in professional dictation equipment. Designed for professionals who rely on secure, flexible, reliable products as integral parts of their office workflow, it features real-time 256-bit file encryption, a redesigned, independently housed microphone, enhanced battery life and next-generation Olympus Dictation Management Systems (ODMS) software.
John Dinkel from Executive Communication Systems says "we fully expect the DS-7000 to be as reliable as the DS-5000 was. In the 5+ years that the Olympus DS-5000 was on the market we never received one single unit back for hardware failure."
Since 1990 ECS has been providing high quality, dependable dictation/transcription equipment and accessories with in-house service solutions designed to address the needs of our customers. Additionally, integrity isn't just a word for us, it describes how we live our lives and operate our business.
Executive Communication Systems
1445 Donlon Street
Suite 1
Ventura, CA 93003
United States
sales(at)tvps(dot)com
800 644 9525
http://www.tvps.com