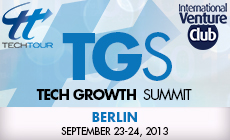 "It brings together a unique group of CEOs who are changing the world with CEOs who have changed the world. "
Geneva, Switzerland and Berlin, Germany (PRWEB UK) 14 May 2013
At the Tech Growth Summit to be held at Umspannwerk Kreuzberg in Berlin, Germany, on September 23-24, the current European market leaders in ICT & digital technology will meet with the top 25 rising stars to share their winning knowledge and best practices with these upcoming game changers. Presented by the Tech Tour and the International Venture Club this is the first event of its kind to give Europe's leading CEOs the opportunity to meet face to face with their peers who have already surpassed industry milestones and are now counted among the success stories in the ICT & digital world as well as network with leading corporates and international investors.
CEOs already confirmed to participate include:
Sherry Coutu (iii), Gianluca D'Agostino (Neomobile), Errol Damelin (Wonga), Mans Hultman, Qliktech, Stan Laurent (Photobox), Mike Lynch (former CEO of Autonomy), Cem Sertoglu (Earlybird), Sebastien Siemiatkowski (Klarna), Hjalmar Winbladh (Rebtel)
CEOs will meet privately on September 23rd to exchange views via round table discussions and to mentor each other on best practices to be moderated by Dave Darsch, CEO Collaborative Forum, who has more than 30 years of experience as an entrepreneur and managing technology companies.
On September 24, a select group of invite only Corporate and international investors will have the opportunity to meet with these trailblazers.
Joerg Sievert, SAP Ventures, is the President of the summit and said, "The Tech Growth Summit focuses on the top 25 growth stage ICT companies in Europe. It brings together a unique group of CEOs who are changing the world with CEOs who have changed the world. The event uniquely caters to CEOs who will have the opportunity to meet key participants in this ecosystem, from key corporates to investment banks and M&A specialists to thought leaders."
Alex McCracken, Silicon Valley Bank, leads the Selection Committee as Vice President and said that, "The steep selection criteria guarantees a high degree of excellence will be exhibited at the Summit." The Selection Committee has chosen 25 companies that have a minimum investor valuation of EUR 100 M and meet at least one of the following criteria:

EUR 10-30 M revenue >100% YOY growth
EUR 30-100 M revenue and growth >50% YOY growth
Companies with more than EUR 100 M revenue, pre-IPO candidates
Joerg Sperling, WHEB Partners, is the VP of Partnerships said that, "The Tech Growth Summit is, in essence, the key event of the Tech Growth eco-system as the selection committee has chosen only the best late stage companies, so that participants can see what the future holds for investors and entrepreneurs in Europe."
The Tech Tour's previous ICT Summits have presented such illustrious companies as: SoundCloud, Just Eat, Klarna, Kobojo, Aepona, Amplidata, CloudSigma, Amiando, Dailymotion, and Madvertise.
The 2013 selection committee members include:
Ifty Ahmed (Oak investment Partners), Philippe Botteri (Accel Partners), Scott Collins (Summit Partners), Laurence Garrett (Highland Capital), Thorsten Jelinek (World Economic Forum), Bodo Kräter (Skillnet), Jonathan Meeks (TA Associates), Inessa Obenhuber (Seraph Group), Benjamin Robertson (Jefferies & Company), Per Roman (GP Bullhound Ltd), John Rosenberg (Technology Crossover Ventures), Hansjoerg Sage (Gimv), Lars Singbartl (Warburg Pincus), Pietro Strada (Torch Partners), Giuseppe Zocco (Index Partners)
For more information on how to register please contact myrna(at)e-unlimited(dot)com or visit http://www.techgrowthsummit.com
About the Tech Tour
The Tech Tour was founded in Geneva in 1998 in response to the growing interest in emerging technology companies in Europe. The Tech Tour is an organization composed of key contributors to the high technology industry. The organization recognizes that continued prosperity in Europe lies in its ability to transform today's innovative projects into tomorrow's global technology leaders.
http://www.techtour.com
About the International Venture Club
The International Venture Club was founded in 2011 as the collaborative platform of leading venture investors promoting successful international investments. Its objectives are to 1) share better practices, 2) build co-investor trust and relations, 3) foster new funding and investment opportunities through joint actions and PR, 4) grow promising companies with corporate partners and co-investors and 5) keep a smart window and support to emerging innovative companies.