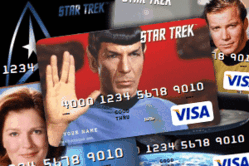 the Star Trek card is only available if you are a US citizen or a "legal alien"
(PRWEB UK) 14 May 2013
It may not be the final frontier, but just weeks after Russian Bruce Willis fans got their chance to own plastic with their favourite celebrity emblazed, a US prepaid card company is poised to shake things up with another endorsed product.
Under license from CBS Consumer Products, US prepaid card issuer, CARD.COM have released the official Star Trek prepaid card. The cards are available in nearly 30 designs featuring many of the hit shows' favourite characters as well as images of the Enterprise, Voyager etc - although purist might be keener to get a simple Star Trek logo emblazed card. The prepaid cards can be used anywhere the Visa logo can be seen on Earth, or in "the rest of the Alpha Quadrant", so as Ben Katz, CEO of CARD.com, puts it, "…CARD.com gives Star Trek fans a unique way to engage their fandom all while utilizing this forward-thinking financial service…"
UK Trekkies will no doubt be disappointed to hear that the Star Trek card is only available if you are a US citizen or a "legal alien residing in the United States or the District of Columbia", but a spokesperson for compareandsave.com, leading UK prepaid card comparison website, offered these words of encouragement:
"The recent activity in the US prepaid credit card market is really interesting to us this side of the pond. US issuers seem very keen to engage celebrities and established fan-bases to promote their products. Obviously if this strategy is working in the US, and we share so much in common with them, it probably won't be long before UK issuers start issuing endorsed prepaid products. So perhaps even Scotty will be able to get a Star Trek card too soon!"
____________________
compareandsave.com is one of the UK's leading personal finance comparison websites. Based in Colchester, Essex, compareandsave.com has been helping UK consumers get a better deal on credit cards, savings accounts, personal loans and more for over five years.