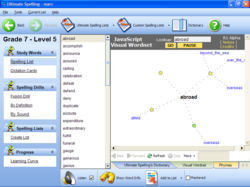 Obviously, someone who is learning English often has to adjust a little bit when learning in a language that is not their native tongue.
New York City, NY (PRWEB) May 23, 2013
The developers at the eReflect software company know that learning how to spell entails not only being familiar with the formation of the words, but also with their definition and pronunciation.
As noted in a recent announcement by software company eReflect, the reason why Top Ten Reviews cites eReflect's Ultimate Spelling software as a must-have is simple: it is the most comprehensive spelling tutorial program out there today.
According to this review, the great thing about the software is that it is effective enough to be able to cater to students of all ages. Whether the users are young children just headed off to their first spelling bee contest, teenagers who would like to expand their vocabulary some more, or even adults who would like to further improve their word bank, all can gain from this program.
In addition, as the review notes, Ultimate Spelling software is also very useful for ESL students, or any other users who speak English as their second language. Obviously, someone who is learning English often has to adjust a little bit when learning in a language that is not their native tongue. As such, it is often difficult to find a software program that is as effective for non-native English speakers as it is for native English users.
When Top Ten Reviews evaluated the 2013 release of the Ultimate Spelling program, it was a pleasant surprise for them to find that the program actually does make itself flexible enough for effective use even by ESL students. This is because the drills incorporate-- not only teach-- how to properly spell a word, but also how to say it. More importantly, it provides definitions for the words that are in the database.
To further aid the understanding of the user, there is also a feature which makes use of flash cards containing an image which can be associated with the word. For an ESL student, this definitely makes it easier for them to put the word in its proper context, and in effect, successfully expand their vocabularies.
No doubt, this holistic design of the Ultimate Spelling Software easily grants it a spot in the top tutorial software category, and the popularity of the software continues to prove that many people agree with Top Ten Reviews' conclusion.
For more information about how spelling software can improve spelling performance for you and your family, please visit the official website at http://www.ultimatespelling.com.
About Ultimate Spelling™
Ultimate Spelling provides a modern and easy to use spelling software that has been designed with one goal in mind – making children want to learn.
It is a fast and easy way to master even the most complicated spelling, without the need to write long lists or complete boring tests.
In fact, Ultimate Spelling provides more than just spelling help. It is a complete educational resource that boosts all level of a child's literacy.
Containing a personal computer tutor, Ultimate Spelling is the most realistic step-by-step guide to flawless spelling ability.