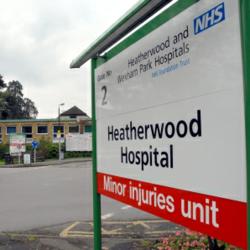 It is vitally important that midwives take care during the delivery of babies, mistakes such as these can affect a child for the rest of their lives and medical staff need to understand this
(PRWEB UK) 21 May 2013
The eight year old boy, who cannot be named for legal reasons, suffered a serious birthing injury to his brachial plexus after midwives used excessive force during his delivery which damaged the nerves in his shoulder that control the motion of the arms, according the documents released by the high court (1).
According to the court files, the Judge described the injury as "lifelong", and has left the victim with excessively limited use of his arm, which court documents state has left him and his family with severe problems (1).
The Heatherwood and Wrexham Park Hospitals NHS Trust accepted liability for the damages caused and agreed to pay out £540,000 in order to try and compensate the boy and his family for his disability, helping to give them a better quality of life (1).
The Barrister representing the family, Clodagh Bradley stated that:
"The whole injury has had a very considerable impact, not only on the claimant, but on his entire family.
They have dealt with it valiantly and supported their son to the best of their abilities to maximise his potential, notwithstanding his significant injury" (1)
Giles Colin, The barrister representing the NHS is said to have offered the Trusts "sincere apologies" for the damage that was caused during this ordeal and the pain and suffering it has caused the family from there on out (1).
Agreeing to the compensation deal, the judge in question said:
"Damages cannot possibly fully compensate for the wrong that has been wrought. It can go part of the way to make a life easier, more manageable and happier than it otherwise might have been. It is a great tribute to his parents, from all the papers I have seen, that he has their undivided devotion, care and attention"(1).
Asons Solicitors have a team of specialist medical negligence experts that have a wealth of knowledge in dealing with birthing injuries. Looking into the unfortunate case, Asons Executive Thomas Fairclough said:
"It is vitally important that midwives take care during the delivery of babies, mistakes such as these can affect a child for the rest of their lives and medical staff need to understand this. The family in question were well within their right to make a birth injury compensation claim and the settlement that they have received is more than deserved. I am very happy about the outcome of this case and hope it encourages more families to come forward if they have been affected by similar situations, to make a claim for birthing injury compensation".
Anyone that has been affected by birth injuries, and requiring more information can find out more information at http://www.asons.co.uk or by phoning 01204 521 133.
Court reference number: NJ12C00120
(1) GetBracknell.co.uk, May 13th 2013, Heatherwood Hospital bosses payout to disabled boys family,
http://www.getbracknell.co.uk/news/s/2133968_heatherwood_hospital_bosses_payout_to_disabled_boys_family

About Asons Solicitors:
Asons Solicitors is a Bolton-based law practice that specialises in personal injury and industrial disease claims. Founded by brothers Imran Akram and Kamran Akram, Asons Solicitors has developed to become a young and dynamic law firm that delivers practical solutions to clients in times of difficulty. Their continued focus on their staff has seen them awarded with the Investors in People "Gold Award"; which is reflected in the professional and personable approach they take in working with clients. They strive to grow and to develop, and their supportiveness and attention to detail ensures that their clients use them time and again.
For further information contact:
Email: info@asons.co.uk
Website: http://www.asons.co.uk