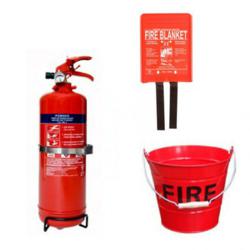 (PRWEB UK) 14 May 2013
In advance of National Barbecue Week in the UK, which coincides with the Bank Holiday on the 27th May, Firemart are advising people to plan ahead to ensure safety comes first.
With the unpredictable nature of the weather across the UK, many barbecues are planned at short notice and this could lead to fire and food safety hazards.
Firemart advise the following fire safety tips:

Barbecues should only be used on a flat site
Ensure they are kept away from sheds, trees and shrubs
Barbecues should never be left unattended
Children, pets and any garden games/activities should be kept well away from the barbecue area
Have a bucket of sand or water available in case of an emergency
Ensure the barbecue has cooled down after use before moving or cleaning
They also advise people to be aware of food safety when it comes to barbecuing in order to avoid food poisoning, particularly when cooking meat.
Frozen meat should be properly thawed before cooking on a barbecue
Remember to turn the meat regularly to ensure it is cooked evenly throughout
Keep raw meat and cooked foods separate by using separate containers and utensils
In addition to their advice guide, Firemart have put together a Barbecue Safety Kit which includes a 2kg Power Fire Extinguisher, a 1 metre Fire Blanket and a Metal Fire Bucket.
Firemart hope their guidance on fire and food safety will help people have an enjoyable National Barbecue Week free of accidents.