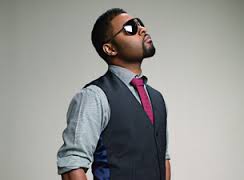 Musiq Soulchild live this Monday
London (PRWEB UK) (PRWEB UK) 14 May 2013
Music soul fans across London's nightlife scene and the many night clubs in London are looking forward to seeing U.S Sensation Musiq Soulchild live in concert next week at the IndigO2 in Greenwich.
The multi platinum selling R&B and soul singer-songwriter born and raised in Philadelphia is returning to UK shores to perform to his loyal fanbase.
Musiq has always been respected for blending contemporary R&B, soul, funk, jazz, and hip hop, representing his roots and love of diverse styles, which audiences across many London R&B clubs have always appreciated.
Fans that are lucky enough to purchase tickets priced between £27.50 to £50.00 will hear elements of Stevie Wonder and James Brown as Mr. Soulchild sings songs from his forthcoming album plus classics such as: 'Just Friends','Halfcrazy', 'B.U.D.D.Y', and many more played across nightclubs in London.
Albums such as: Aijuswanaseing, Juslisen, Soulstar, Luvanmusiq, OnMy Radio, and MusiqInTheMagiq will be packed with anthems that his fans will be only too happy to singalong to with his live band. So book your tickets and know as on Monday 20th May the soulstar will be showcasing his great live performance skills and goose bump vocals.
So if you want to fight the Monday blues then what better way to kick start your week than with a night of live music in the capital.
This release has been bought to you by London Groove, for the ultimate luxury night out London Groove offers exclusive guest list, booth and table bookings across all venues, with no minimum spend, allowing guests to fully focus on partying.
There is also no membership requirement making London Groove's parties some of the capital's few quality club nights open to all.
The bespoke agency also has a dedicated website which, as well as providing bookings, allows guests to browse the latest pictures from the London nightlife scene including fashion, and celebrity gossip.
Visit London Groove for more.
"London Groove's club nights are the ultimate destination in the City of London attracting over 900 party goers every weekend. Their style and luxurious feel mean you can make the most of the London nightclubs scene and have fun in three of the Cities best venues where anyone and everyone can enjoy a night of glamour" commented Steve Prashad, Director and founder of London Groove.
For further information you can contact Steve Prashad at: steve(at)londongroove(dot)co(dot)uk
Ends
Notes to editors
About London Groove
Launched in March 2004, London Groove was set up to provide a guest list service for people who wanted to go clubbing in the West End so they could sign up on the guest lists for their chosen club nights in the West End.
Initially catering to a range of London R&B clubs and providing a London clubs listing service, London Groove then focused on hosting its own club night in the West End every Saturday from which Soul Saturdays was born. London Groove steadily grew and has since worked with many London clubs and expanded their music policy at their club nights to include Funky House, 90's Old Skool, Party Anthems and Club Classics.
"We aim to give our customer our help, support and value for money when booking a guest list, table or area and partying with us at any of our London club nights. We pride ourselves on professionalism and customer satisfaction with our endless list of clients ranging from blue chip companies to small businesses to individual guests, not to mention the endless list of brides," says Steve Prashad, Director and founder of London Groove.
Website: http://www.londongroove.co.uk
Phone (office): 020 8252 1574 (10am - 6pm)
Phone (on the move): 07968 828 504 (10am - 8pm)
Soul Friday's at Yager Bar
Address: 2 Old Change Court, EC4M 8EN (Tube: St Paul's)
Capacity: 250
Opening times: 10:00pm – 2:30am
Minimum age: 21 years and photo ID
Soul Saturdays at The Refinery
Address: 110 Southwark Street, SE1 0TF (Tube: Southwark / London Bridge)
Capacity: 300 people
Opening times: 10:00pm – 3:00am
Minimum age: 23 years and photo ID
Soul Saturdays at The Anthologist
Address: 58 Gresham Street, EC2V 7BB (Tube: Bank)
Capacity: 500 people
Opening times: 9:30pm – 3:00am
Minimum age: 23 years and photo ID