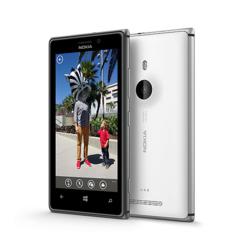 Featuring an aluminium body in a choice of silver or grey, the Lumia 925 is a premium version of the 920.
Birmingham, West Midlands (PRWEB UK) 15 May 2013
The new Lumia 925 was announced this morning in London. The revamped version of the Lumia 920 will be sold alongside its predecessor and is described by Nokia as a "new interpretation" of the previous model.
Nokia scraped built-in support for wireless charging resulting in a lighter handset and improved both the hardware and software aspects of the camera. Featuring an aluminum body in a choice of silver, black or grey, the Lumia 925 is a premium version of the 920 and, unlike its predecessor, seems to be targeted directly at business people.
Nokia scraped the built-in support for wireless charging in favour of a slick design. Lighter and thinner, the Lumia 925 weighs 46g less than the Lumia 920 and is 2.2mm thinner, coming in at a weight of 139g and a thickness of 8.5mm.
The already impressive 8.7 megapixel camera featured on the Lumia 920 has been further improved on the 925 and is potentially one of the best cameras on board any smartphone to date. The camera sports a six-element lens where handsets to date have had a five-element lens at most. This helps remove imperfections from photographs and results in sharper images for the end-user. An imaging software update which will soon be released for all Windows 8 Lumia handsets will further improve image quality by removing noise and outputting brighter images.
One change that immediately stands out is the use of an aluminum metal body instead of the plastic body used on the Lumia 920. The Nokia Lumia 925 will only be available in a choice of grey, silver or black which makes for a more restrained device aimed more at business people. In contrast, the Lumia 920 comes in a variety of bright colours.
No phone is complete without the right accessories that can help users make the most of it. Mobile Fun, the UK's leading online retailer of mobile phone accessories, already have a wide range of accessories for the Lumia 925 and the Lumia 920 available on their virtual shelves. Their diverse selection includes protective cases, chargers, car holders and screen protectors, among others.
-ENDS-
About Mobile Fun
Birmingham based MobileFun.co.uk is the UK's leading internet retailer for "everything first"; offering a range of mobile phones, mobile phone accessories.
Mobile Fun has offices in the UK, USA, Germany, Spain and France and delivers products to over 50 countries worldwide.
Mobile Fun were recently named the 'Best Accessory Retailer 2012' at the What Mobile Awards and won the title of 'Online Retailer of the Year' at the Mobile News Awards 2012 for the second year running.