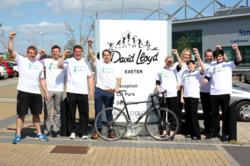 (PRWEB UK) 15 May 2013
David Lloyd Exeter team members were joined by Exeter Chiefs, who swapped conversions for cycles to pledge their support for the inaugural Devon Classic Bike Ride on July 21.
International rugby player and Exeter Chief Tom Johnson, the team's prop forward Carl Rimmer and hooker Chris Whitehead, visited David Lloyd Exeter, Devon's premier health, sports and leisure club, which is gearing for the race, a new sporting challenge for cycling enthusiasts of all abilities.
The race will start and end at David Lloyd Exeter in Sandy Park on July 21, and will offer participants three different routes of 110 miles, 55 miles and 26 miles, taking in the beautiful Devon country side.
Registration is now open, and all registered entrants will be in with a chance of winning a six-month David Lloyd Leisure individual membership or, alternatively, a three-month couple's membership at one of its 81 UK clubs*.
The Devon Classic Bike Ride will raise funds for David Lloyd Leisure's national charity partner of the year, Together for Short Lives, with a proportion of the entry fee donated to the cause.
Event director Barry Clayton said: "This new and exciting bike ride is designed for all cycling enthusiasts, sportsmen and women who want to take on a challenge through the beautiful Devon countryside while raising some much needed funds for a very good cause."
Register online for the Devon Classic 2013: http://regonline.activeeurope.com/Register/Checkin.aspx?EventID=1211112.
*Terms and conditions apply.
ENDS
Note to editors: For further information about this press release, contact the David Lloyd Leisure press office on 01707 289833/4 or email press(at)davidlloyd(dot)co(dot)uk.
About David Lloyd Leisure Group
The David Lloyd Leisure Group operates 81 clubs in the UK and a further 10 clubs across Europe. It has over 440,000 members and employs 6,000 people. This includes an expert health and fitness team of over 1,800, while it contracts the services of more than 400 tennis professionals. Across all clubs, David Lloyd Leisure has over 150 swimming pools (of which half are indoor) and offers over 10,000 exercise classes per week. Every week 20,000 children learn to swim at David Lloyd Leisure and 14,000 learn to play tennis. Its racquets facilities are unparalleled with 700 racquets as well as 180 badminton courts and 140 squash courts. Additional facilities include health and beauty spas, club lounges with free Internet access, crèches, nurseries and specialist sports shops.
About Together for Short Lives
Together for Together for Short Lives is the leading charity for UK children's palliative care. We support those who help, love and care for children and young people who are unlikely to reach adulthood. We work with children's hospices and a range of other services across the country to ensure that every child, young person and their family has the best possible care and support whenever and wherever they need it. From the moment of diagnosis, for whatever life holds, we help to ensure families make the most of their precious time together.
Visit http://www.togetherforshortlives.org.uk for more information.