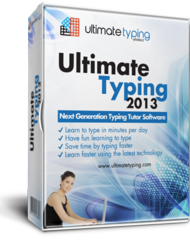 Ultimate Typing provides an "all in one user experience" as it takes the user gradually from one skill level to another.
New York City, NY (PRWEB) May 18, 2013
A recent statement by eReflect developers revealed that Ultimate Typing software can allow users to master the typing skills they need, without expending excessive time and energy. The developers point out that training exercises are specifically designed to enhance touch typing speed and accuracy. The software also imparts the necessary theoretical knowledge pertaining to finger placement and hand positioning that allows the users to type comfortably.
In their latest statement, eReflect developers claim that a user can master the touch typing skills by practicing for merely seven minutes a day. The developers emphasize that the ability of the software to instill the necessary skills within its users arises from its ability to uniquely combine the attributes of learning and knowledge. The claims made by eReflect developers have been recently validated by a review of typing software published by Neuro Cube. The review praises the features offered by the software and holds that it is able to provide results beyond expectations.
eReflect developers note that Ultimate Typing provides an "all in one user experience" as it takes the user gradually from one skill level to another. No additional material or assistance is required and the software acts as a mentor and coach by motivating the user at each step and tracking its progress. These features were confirmed by the Neuro Cube review that praised the ability of the software to teach touch typing in a few short lessons.
Within their statement, developers at eReflect placed special emphasis on the need to adopt proper finger placement that ultimately allows typist to feel relaxed during work. Ultimate Typing software provides instructions and guidelines that allow typist to rely on memory and focus on the screen rather than at the keyboard. As the developers point out in their statement, it's important for people to learn to type while also learning proper ergonomic techniques that help eliminate stress and injury.
Developers at eReflect also expressed their joy at receiving a favorable review from a reputed review website and strongly believe that their drive for continuous improvement will allow eReflect to enjoy high customer loyalty in the foreseeable future.
For more details on Ultimate Typing™ please visit http://www.ultimatetyping.com/.
About Ultimate Typing™
Ultimate Typing™ software is designed specifically for the improvement of typing skills. Created by eReflect, a world leader in e-learning and self-development software, Ultimate Typing™ has been informed by the latest developments in the science of touch typing.
Since its creation in 2006 by Marc Slater, the company has already catered to over 112 countries all over the world, offering products with the latest cutting-edge technology, some of which are among the world's most recognized and awarded in the industry.