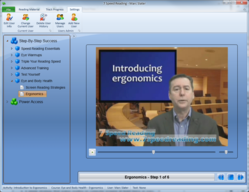 As this study shows, there is a direct correlation between the rise in sales of ebook devices to the growth in the number of readers.
New York City, NY (PRWEB) May 19, 2013
The developers at eReflect, the software company behind 7 Speed Reading, are pleased to announce that a study by the Pew Research Center has recently found that those people who read books via their ebook readers are more intense and voracious readers, insofar as the quantity of books is concerned. Apparently the easy access to a wide variety of selections makes people more interested in reading more and reading faster. Because eReflect promotes and supports reading skills and speed reading abilities, this is welcome news.
Ebook readers can easily connect to the Internet, and from there can make purchases to fill up their own personal libraries. It also helps that the ebooks are relatively well-priced, making it the perfect resource for the readers on the go. What's more, free ebooks can be accessed through many local libraries.
As this study shows, there is a direct correlation between the rise in sales of ebook devices to the growth in the number of readers. Consequently, there are also more people now who are into developing their speed reading skills. Of course, with so many more books available now, there's a lot more impetus for the readers to read as much as they can, when they can.
Because of the immediate availability of books online, people using e-readers have been found to be more intense readers than their paperback-reading counterparts. The connection is inevitable, of course. With e-readers becoming more ergonomic and sleek, they become the perfect companion for long travels and idle time.
The 7 Speed Reading 2013 software program illustrates another advantage of the e-reader, note the developers at eReflect: the ability to "carry" thousands of books in the same space as one typical hardback book. With an e-reader, as soon as the reader finishes up one piece reading material, they can just easily get another one from their saved files. There's no need to bring bulky copies of every book along in their bags. This mobility and portability are indeed huge reasons why e-readers are growing in significant numbers by the day.
As the eReflect software team points out, there's another implication of this study, and that is that speed reading has yet again resurfaced to be one of the more useful skills in today's world, be it for leisure or work. Being able to read fast is definitely going to be a huge help for aspiring e-reader users, because it leaves time for much more reading.
For more information about the benefits of using 7 Speed Reading, please visit the official website at http://www.7speedreading.com.
About 7 Speed Reading™
7 Speed Reading is the only modern speed reading software that uses the latest technology to produce superior results.
The software provides its users with a new way to master speed reading that guarantees three times the reading speed along with improved memory and comprehension.
The software is poised as the most comprehensive speed reading system anywhere. It contains seven learning strategies, fifteen software activities, video training, advanced tracking capabilities and many more exciting features.