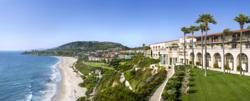 Dana Point, California (PRWEB) May 16, 2013
What started as a simple creative endeavor for Palm Springs-artist Charley Akers has turned into a tribute to Festival of Arts artists with a Photo-Illustrative Exhibit. The exhibit will be unveiled May 23, 2013 at The Ritz-Carlton, Laguna Niguel and will be on display in the resort's Art Hallway through September.
Aker's unique black and white portraits capture the essence of each artist as well as their craft. Using a variety of computer techniques and just a touch of color, the artist's craft is featured as a juxtaposed element in the portrait. Hanging across from each of Aker's photographs will be a piece of art/sculpture by the artist depicted in the portrait. The exhibit includes artists Mary Aslin, Gerald Schwatz, Hannah Harris, Stacy Van Hanswyk, Murray Kruger, Lindsay Buchman, Jacquie Moffett, Roger Folk, Scott and Naomie Schoenherr, Paul Bond, Russell Jacques, and Sandra Jones Campbell, each of whom has been selected to showcase their art at the 2013 Festival of Arts in Laguna Beach.
"Our guests were extremely interested in Charley's exhibit last year so we are excited to display his work again this year," says Director of Marketing Donna Bond. "The Festival of Arts highlights many amazing and talented artists and we are thrilled to be able to showcase the work of these 12 Festival of Arts artists alongside Charley's portraits. Charley's unique style lends itself well to the resort's playful approach to luxury and creates interest for our guests about the annual Festival of Arts, an amazing destination fine art show," she added.
As the official Festival of Arts and Pageant of the Masters hotel partner, The Ritz-Carlton, Laguna Niguel makes enjoying the Festival and Pageant a first-class experience through packages that feature incredible seats and exclusive offerings. The Behind the Velvet Rope Experience features ocean view overnight accommodations on The Ritz-Carlton Club Level, two premium seat tickets to the Pageant, a guided docent tour of the Festival, a backstage tour of the Pageant for $1,475 per night. This behind-the-scenes experience is not offered at any other luxury resort. The Big Picture Experience includes overnight accommodations and two premium seat tickets to the Pageant with rates starting at $645 per night. Packages can be booked online at http://www.ritzcarlton.com/LagunaPageant.
About Charley Akers
Photographer Charley Akers combines an imaginative eye with computer savvy to create an entirely new form of portraiture. Inspired by past 20th century master photographers, he has developed his current black & white photo-illustrative style to be totally unique in the US market. Akers describes his work as "Yousuf Karsh meets Steve Jobs." An enthusiasm for new experiences and a personal challenge to drive his work in a more creative direction has inspired Akers to refocus his 35-year corporate photography career to this new artistic style. He has an exuberant, social personality that draws him to working with people and portraiture. Akers has shot assignment photography for fortune 500 and fortune 100 companies in 22 states and 7 countries with credits including hundreds of national & international ads, magazine covers, brochures, and annual reports. Working with CEO's, celebrities, and professional sports figures his photography has appeared in major magazines, brochures and television around the world. Clients have included AT&T, Coca Cola USA, Hotel Del Coronado, Playboy Enterprises, Polaroid Corporation, University of Georgia, UPS, Vail Mountain Resort and Spa, La Costa Resort & Spa, and more. He continues to enjoy his corporate projects as well, and his studio, Charley Akers Photography, is based in Palm Springs, California.
About The Ritz-Carlton, Laguna Niguel
The Ritz-Carlton, Laguna Niguel premiered as the first luxury resort along coastal Orange County in August 1984. Today, the resort is a re-imagined surfside retreat that awakens guests' senses with its unique ocean-front setting and remarkable service heritage. The resort is the premiere destination for travelers who desire a playful approach to Southern California luxury. The resort has been the recipient of many awards over the years, but is proud to boast earning AAA Five Diamond status for the 28th consecutive year, the longest in California. The resort offers many extraordinary experiences including Raya, enoSTEAK, 180blũ, The Market Place, Bar Raya, and the Eco-Adventure Center. For more information or reservations call 800-241-3333, the hotel directly at 949-240-2000, a travel professional or visit the web site at http://www.ritzcarlton.com/LagunaNiguel.
About The Ritz-Carlton Hotel Company, L.L.C.
The Ritz-Carlton Hotel Company, L.L.C. of Chevy Chase, Md., currently operates 82 hotels in the Americas, Europe, Asia, the Middle East, Africa, and the Caribbean. More than 30 hotel and residential projects are under development around the globe. The Ritz-Carlton is the only service company to have twice earned the prestigious Malcolm Baldrige National Quality Award which recognizes outstanding customer service. For more information, or reservations, contact a travel professional, call toll free in the U.S. 1-800-241-3333, or visit the company website at http://www.ritzcarlton.com. The Ritz-Carlton Hotel Company, L.L.C. is a wholly owned subsidiary of Marriott International, Inc.