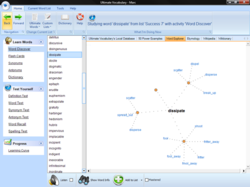 ...generous parental support makes sure deaf children are constantly encouraged and motivated in their learning efforts...
New York City, NY (PRWEB) May 22, 2013
Today the developers behind eReflect's self-paced vocabulary improvement software, Ultimate Vocabulary™, announced that with adequate parental support and with specialized hearing aids, deaf children can be provided equal opportunities for extended and varied vocabulary use. A study by Karien Coppens , a researcher at the Netherlands Organisation for Scientific Research, published last Nov. 2, 2012 has shown that with the right conditions and support, deaf children, who often have poor or reduced vocabulary skills, can improve their vocabulary to such an extent that they can become eligible to transfer to ordinary schools.
Coppens has come up with an online vocabulary test which accurately identifies the vocabulary level of a student. The vocabulary test is called Woord Vor Woord and is comprised of nine different levels. When deaf students took the test, it was possible for the researcher to identify both their vocabulary knowledge and their expected vocabulary growth. Those with increased vocabulary were eventually able to transfer to ordinary schools.
Coppens made sure to emphasize how individual differences have a large role to play in whether a child will have an increased vocabulary or not. Her research revealed that children with hearing aids and adequate parental support and communication were able to do better on the vocabulary test. According to the study, encouragement and support were two key components for deaf children's subsequent learning prospects. Her findings suggest that parental support is crucial, and that a child's potential for learning vocabulary as well as other subjects can be improved by the use of the correct technological aids.
Commenting on the findings, eReflect's Ultimate Vocabulary™ development team underlined the urgency behind promoting a wider use of such vocabulary tests. The software representatives stated that this is a necessary method for accurately identifying knowledge gaps and weaknesses in deaf children. An accurate diagnosis more often than not means the treatment will be effective. As the study also mentions, generous parental support makes sure deaf children are constantly encouraged and motivated in their learning efforts, Ultimate Vocabulary™ concluded.
For more information on how you can benefit from Ultimate Vocabulary, please visit its official website, http://www.ultimatevocabulary.com.
**********
About Ultimate Vocabulary™
Ultimate Vocabulary provides a proven and powerful platform, built to improve anyone's vocabulary.
The interactive self-improvement system provides more learning tools than any other program on the market, as well as more information on words.
The Ultimate Vocabulary software provides each and every user with a personal computer tutor. Providing a step-by-step guide to learning a powerful vocabulary, Ultimate Vocabulary is the learning tool everyone can benefit from.
Of course, the software is also backed by eReflect's iron-clad money back guarantee.