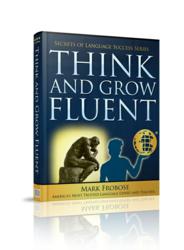 "Think and Grow Fluent is a cutting-edge approach to learning languages from the inside out."
-Mark Frobose
LanguageAudiobooks.com
Champaign, IL (PRWEB) May 14, 2013
Language Audiobooks President Mark Frobose announced today the release of revolutionary new eBook which details the relationship between thought and fluency.
The name of the new eBook is "Think and Grow Fluent" and is available only through the company's website at http://www.languageaudiobooks.com.
"Think and Grow Fluent is a cutting-edge approach to learning languages from the inside out," said Mark Frobose, who penned the new eBook.
"It appears that most people think that learning a language is an external process, when in reality it is mostly an internal and very mental experience," he added.
The basic premise of the new eBook is that thoughts are things and that as we think we tend to manifest.
"Think and Grow Fluent cannot guarantee anyone fluency," emphasizes Frobose with a smile. "However, it can greatly increase anyone's future potential for becoming fluent in a new language by teaching people strategies for programming their mind for fluency," he concluded.
Mark Frobose is also the author of two bestselling audio programs titled "Power Spanish I Accelerated" and "Bite-Sized Spanish in Ten Minutes a Day". Mark also created the entire language program line for Macmillan audio of New York.
Language Audiobooks Inc. is the nation's leader in fast and easy to learn audio language programs and eBooks.
No-cost language lessons and a no-cost eBook are also available by going to Language Audiobook's website.