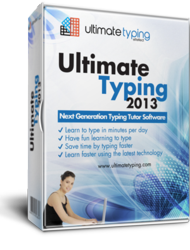 As the company that developed Ultimate Typing™ asserts, the entire structure of the software has been designed along the lines of offering an optimized learning opportunity to typists.
New York City, NY (PRWEB) May 27, 2013
Typing improvement software needs to accommodate people who already know how to type and want to increase their speed and accuracy, but it also needs to help people who are just beginning to learn to type. As the typing experts at eReflect explained in a brief statement today, their new software, Ultimate Typing™, is a typing tutor that helps beginner typists quickly and easily improve their typing skills. The software has been designed by experts in the field of touch typing, as well as software engineers who incorporated the latest technology into the system, and as such it allows typists of all levels, and especially beginners, to effortlessly and quickly improve their typing performance. The eReflect team did extensive user testing before releasing their newest software product, and in today's statement expressed their pleasure that outside testing confirms their results. For example, said the eReflect developers, in a recent detailed review on the website Squidoo, the reviewer supports the claims eReflect company has made regarding Ultimate Typing™ software's capacity to enhance typing speed and accuracy for beginner level typists.
As the company that developed Ultimate Typing™ asserts, the entire structure of the software has been designed along the lines of offering an optimized learning opportunity to typists. eReflect's developer team explained in today's statement that the step-by-step video tutorials included in the software allow beginner typists to have teaching support from the very first minute they begin using the software. As eReflect suggests, the interactive video tutorials enable learners to completely understand the methodology and strategies of typing before the actual typing practice begins. The video tutorials are designed by experts in order to provide thoroughly comprehensible instructions to users. Ultimate Typing™ developers assert that the video tutorials are particularly interactive and offer an immediacy of learning not many other instructional software products can. Even beginner typing efforts become effortless with the video tutorials and other technologies the software has been enriched with.
In the statement today, the experts on the development team explain that another tool in Ultimate Typing™ also helps beginner typists: the performance tracking feature. This makes it easier for beginner typists to instantly review their progress, set new typing goals in terms of their typing speed and accuracy, and have always a clear picture of how quickly they are making progress towards those goals.
Ultimate Typing™ expressed its gratitude for continued user testing and feedback from third-party sources, and urges beginner typists and those with poor or counterproductive typing skills to use typing software in order to easily and quickly improve their typing performance to save many hours of typing every week.
For more details on Ultimate Typing™ please visit http://www.ultimatetyping.com/.
About Ultimate Typing™
Ultimate Typing™ software is designed specifically for the improvement of typing skills. Created by eReflect, a world leader in e-learning and self-development software, Ultimate Typing™ has been informed by the latest developments in the science of touch typing.
Since its creation in 2006 by Marc Slater, the company has already catered to over 112 countries all over the world, offering products with the latest cutting-edge technology, some of which are among the world's most recognized and awarded in the industry.