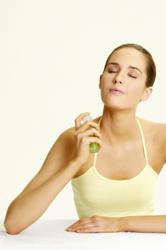 For women who wear makeup daily, and suffer from acne, Probiotic Action may be the best acne treatment.
Miami, FL (PRWEB) May 16, 2013
As the weather warms, women everywhere are waiting for the perfect day to showcase their favorite Spring looks. While most make a statement with fashion, many change their makeup to match the season. Unfortunately, many women find the warmer weather mixes makeup and sweat to produce, and increase acne breakouts. To help women cope with the onset of acne during warmer months, Adult Acne treatment, Probiotic Action shares new insight from female acne treatment users the best ways to deter breakouts.
Recently, an article from Hollywood.com offered women of all ages options to deter breakouts with the suggestion of scrubs and cleansing cloths to help keep skin fresh. Probiotic Action adds new advice for women on how to fight acne while wearing makeup and keep skin fresh.
For those wearing makeup during the hotter months, here's a few tips our female users suggested to help keep skin clear:
-Prep clean skin with Probiotic Action before using a moisturizer.
-Use a non-comedogenic moisturizer that has a lighter coverage than that used during the winter months.
-Make sure that skin is dry before applying makeup, and if possible use a primer to stop open pores from taking in makeup.
-Avoid oil based coverups.
-Use a refresher spray to help tone and moisturize skin during the day(Some use plain water, but can also use an acne treatment spray formula).
-Keep blotting papers available to remove excess oil on skin during the day.
-Avoid touching everyday items like cell phones, hair, and hands to areas where makeup is applied.
For women who wear makeup daily, making sure to thoroughly clean skin before going to bed is the best way to let skin repair itself and breathe overnight. Probiotic Action recommends staying away from harsh scrubs as often they leave micro tears in the skin, which may harbor makeup residue and cause pores to clog. For women looking to save their skin from acne, using a light, spray, acne cream like Probiotic Action, may be the best acne treatment.
Probiotic Action is an advanced acne treatment that uses Probiotics for acne containing the "good bacteria" that is naturally found on healthy human skin. By using probiotics, Probiotic Action is an effective treatment that restores the normal bacteria content on skin. Probiotic Action will successfully clear skin when used as an adult acne treatment while protecting skin against bad bacteria, free radicals, and pollutants*.
*These statements have not been evaluated by the Food and Drug Administration. Probiotic Action is not intended to diagnose, treat, cure or prevent any disease.