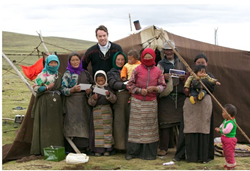 (PRWEB) May 14, 2013
Explore Tibet, a Lhasa-based Tibet tour company, is now offering trips to holy Lake Namtso. The two-day trip includes a visit to a nomad family.
"The peaceful lake remains a mythical place for many travelers with its unique wonders and snow capped mountains," Explore Tibet said. "Namtso is one of the Tibet's three most holy lakes and Tibetans makes the Mount Kailash Pilgrimage circumambulation around the lake at festival times, which takes about a month or less to complete the whole circle.
"The trek is very popular among Tibetans, as the Namtso lake is surrounded by four different Buddhist monasteries."
Approximately 240km northwest of Lhasa, Namtso is the second largest saltwater lake in China. It is over 70 km long and reaches a width of 30km and is 35km at its deepest point. The Nyenchen Tanglha range, with peaks of over 7000m, towers over the lake.
When the ice melts in April, the lake becomes a shade of turquoise. The wide open spaces surrounding the lake are dotted with the tents of the local nomads.
"We will stop at a local family tent to experience their typical tents and lifestyle," Explore Tibet said.
Explore Tibet is a locally-owned travel agency committed to responsible tourism, Tibetan travel permit and sustainable practice.