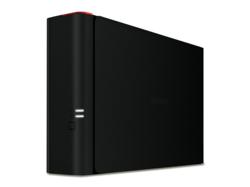 London (PRWEB UK) 15 May 2013
Buffalo Technology, a global leader in the design, development and manufacturing of storage and wireless networking solutions, today announces the launch of its new consumer NAS storage devices – the LinkStation 400 family. The devices offer huge storage capability and feature an enhanced processor core, which provides data transfer speeds of more than 100 MB/s.
The NAS series comprises the LinkStation 410 devices and the next generation Enclosure LinkStation 421DE devices. The devices enable users to consolidate all their media files from their various home entertainment devices – including games consoles, PCs and laptops, smartphones and tablets – in one central location. Users can also share their entire iTunes collection with all the media devices across their network.
Ease of use
The new LinkStation family features an advanced, intuitive and user-friendly interface, which simply guides users through setup and administration of the devices. From the default landing page users can find links to commonly used features, which also include wizards, explanations and graphics – making mastering NAS administration no longer the daunting challenge it's commonly perceived as.
Remote access
The latest LinkStation series also enables users to access their media files and personal data on-the-go, whenever and wherever they like. Users can remotely access all data stored on the LinkStation via smart devices and web browsers using the Buffalo WebAccess app. All LinkStation 400 devices also come armed with a free personal cloud account for every user.
Additionally, the LinkStation 400 series enables remote control of media content from Android and iOS devices, and remote control of BitTorrent from Android devices.
Paul Hudson, Sales Director Northern Europe at Buffalo Technology, said: "The new LinkStation devices combine high usability levels with advanced storage capability and lightning fast data transfers. The remote access feature enables users to take up to 8TB of data and media files on-the-go, via their smartphone, laptop or tablet with Buffalo's WebAccess app.
Enclosure option
The LinkStation 400 family also sees the launch of Buffalo's first Enclosure products, with the LS421DE devices. The products feature the new generation 'Marvell ARMADA 370, 1.2GHz ARMv7' CPU core and DDR3 512MB RAM. When fully populated they can be configured in RAID 0 for performance or RAID 1 for redundant storage as part of a back-up solution.
Klaas de Vos, Senior Director of European Sales & Marketing at Buffalo Technology, said: "This is the first time Buffalo has provided the channel with a state-of-the-art NAS offering, both with and without the hard drive assembly. Until now we only made NAS available fully populated, however at the request of our customers, we have created our first set of Enclosure products to enhance flexibility, scalability and performance for users.
"With the new Enclosure devices, users have the option of increasing their network capacity as and when they choose. They can start by installing only one drive, with the choice of adding another when necessary.
"The launch of the new LS421DE devices marks Buffalo's first offering in the Enclosures space, as we continue to develop our product range to meet the ongoing demands of our customers."
The LinkStation 400 series devices are available fully populated with 2, 4, 6, or 8TB capacity. The devices are compatible with all major operating systems, including, and are Time Machine ready for multi-client scheduled backups.
ENDS
Notes to Editors
Availability
The LinkStation 400 series of devices are available via Buffalo's stockists in the UK at an MSRP of:
LinkStation 410
2TB - £179.99
3TB - £199.99
4TB - £299.99
LinkStation 420
2TB - £279.99
4TB - £349.99
6TB - £409.99
8TB - £559.99
LinkStation 421E (Enclosure) - £199.99
About Buffalo Technology
Buffalo is a global manufacturer of innovative storage, multimedia, and wireless networking products for the home and small business. The company is recognised as the Number 1 total PC peripheral manufacturer in Japan, and was named the worldwide consumer NAS market leader 6 years in a row.
The company's storage products are addressing the needs of the individual and the business, providing cost-effective network attached storage (NAS), portable and desktop hard drives, multimedia players, and Wireless LAN routers, which together offer a complete and integrated solution for the small office and digital home environment.
Buffalo's strong international industry alliances with companies such as Intel, Broadcom™, Nintendo and Microsoft have allowed it to lead the industry in the development of the latest technologies into practical tools for the business and the home.
Headquartered in Japan, Buffalo Technology has offices in the UK, France, The Netherlands, USA and Taiwan. For more information please visit http://www.buffalo-technology.com.