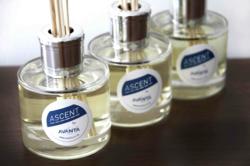 Smell is the most powerful of the senses.
(PRWEB UK) 15 May 2013
Success, it seems, can be bottled: Avanta, the leading workspace provider for SMEs and growing businesses, has launched its own bespoke fragrance for the workplace - 'Ascent' by Avanta.
Avanta worked with renowned perfumer, Ruth Mastenbroek, who advised and guided Avanta through the process of creating the signature scent to stimulate productivity. Formerly President of the British Society of Perfumers, Ruth undertook a degree in chemistry at Oxford and trained with some of the best perfumers in the industry at Grasse – a town in France famous for its perfume.
Ruth explains: "Smell is the most powerful of the senses and is best able to influence brain activity. The Olfactory bulb in the brain is responsible for the perception of smell, and is part of the limbic system that directly connects to the areas of the brain that process emotion and learning. This is one of the reasons why so often something that we smell will trigger a memory of something, or someone."
Ruth and the team carefully selected core ingredients for the fragrance, with beneficial properties that would encourage innovation, motivation and inspiration in the workplace – essential to business success for up and coming SMEs.
"We wanted to capture the innovative spirit of the Avanta workplace, and therefore sought to use fragrance notes that would energise and uplift. This included peppermint to clear the mind and increase focus and concentration, as well as citrus notes which have an uplifting effect."
Alan Pepper, CEO Avanta Managed Offices explains: "We wanted to complement our overall offering by adding something a bit different and innovative into our business centres. By launching Ascent we want to promote creative thinking, motivation and inspiration in the workplace environment. The majority of our clients are SMEs and so all these factors are important for business success in those crucial early growth stages."
Ruth concludes: "Aromatherapy probably isn't the first tool you think of to help boost your productivity and stimulate your business, but perhaps it should be."
The aroma will be launched across all 20 Avanta centres nationwide.