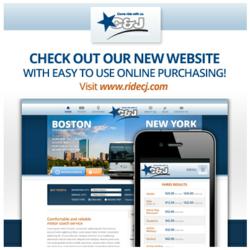 A mobile-friendly website streamlines the online bus ticketing process and delivers schedule information for travelers on-the-go.
Portsmouth, NH (PRWEB) May 14, 2013
C&J Bus Lines, one of New England's premier transportation providers, has recently launched a new mobile-ready website that empowers riders to see schedules and order tickets from their mobile phones and tablets.
"At C&J, we're always looking for new opportunities to simplify our customers' experience," said C&J President Jim Jalbert. "A mobile-friendly website was an obvious way to streamline the online ticketing process and deliver schedule information for travelers on-the-go."
The new website, designed by NH digital agency Raka, is optimized for mobile-devices and lets consumers access bus routes, schedules and fare information, and book tickets online directly from their smartphone, tablet or PC.
C&J's promotion for new website, "On The Go With C&J," (http://bit.ly/10Ib17H) offers the bus company's Facebook fans a chance to win Apple products including an iPad mini and iPhone 5, as well as tickets to Red Sox and Yankees games. The contest runs through May 24 and has drawn more than 500 entries as well as hundreds of Facebook fans since it began April 9.
"C&J is a great way to get to Boston or New York for leisure activities and that's even easier with our new mobile-friendly site," said Jalbert. "So we want to reward our Facebook fans who already use our transportation service as well as invite more people to try C&J as a way to get to Boston or New York for everyday fun such as ball games, museum trips, or concerts."
In addition to free parking and 24-hour customer service, C&J passenger amenities include executive-class, leather seating; free WiFi; refreshments; charging outlets; video entertainment; and partner relationships for auto service and rental. Each day, C&J helps more than 1,800 travelers arrive where they need to be. The new, more navigable website (http://www.ridecj.com) is indicative of C&J's commitment to efficient, dependable service.
About C&J
Founded in 1968, C&J also operates locations in NH at Portsmouth and Dover; in MA at Newburyport, Tewksbury, Boston's South Station and Boston's Logan Airport; and in New York City, at the Port Authority. The bus company serves more than 1,800 travelers each day to provide low-stress, high-comfort travel.
With more than 22 motor coaches and three full-service passenger terminals in New Hampshire and Massachusetts, C&J is one of Northern New England's largest providers of intercity bus transportation. The company serves more than 650,000 annual riders.
Media Contact
Salina McIntire
Director of Sales and Marketing
603.433.8965 x 145