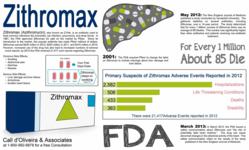 (PRWEB) May 16, 2013
Zithromax (azithromycin), commonly known as Z-Pak, is one of the world's best-selling antibiotics used to treat and prevent certain bacterial infections including bronchitis, ear infections, pneumonia, and strep throat. The World Intellectual Property Organization (WIPO) reported in June 2003 that following the Zithromax patenting in 1981, Pfizer Inc. entered into a licensing agreement to further commercialize the drug, which has since produced over $1 billion annually from sales in the United States (i).
A Vanderbilt University study published in the New England Journal of Medicine, on May 17, 2012, noted the small but significant risk of cardiovascular death in patients being treated with Zithromax, particularly those with preexisting cardiovascular risk factors who were receiving antibacterial drug therapy (ii). The New York Times published another May 2012 article including commentary from doctors and professors at Vanderbilt University, Johns Hopkins University School of Medicine, and Columbia University Medical Center indicating that the most concerning Zithromax side effect is the risk of developing lethal arrhythmia (iii). The study determined that for every 1 million courses of Zithromax, there was an average of 85 deaths. In 2012, there were 21,417 adverse events reported including hospitalizations, life threatening conditions, deaths, and disability. Relying on the study published in the New England Journal of Medicine, the FDA issued a March 2013 safety communication about Zithromax and "the risk of potentially fatal heart rhythms" (iv).
Zithromax is primarily administered in tablet form to be taken orally. In light of this most common use, the Mayo Clinic updated its oral route Zithromax page in November 2012 to enumerate possible side effects of the antibiotic. Some common side effects of Zithromax use include swelling, abdominal pain, diarrhea, and nausea. Among the more serious Zithromax possible side effects are: liver damage and liver failure, arrhythmia, and sudden heart failure (v). In regards to cardiovascular-specific conditions, some symptoms may include: palpitations, fainting, ventricular fibrillation (the uncoordinated contraction of the cardiac muscle of the heart's ventricles), cardiac arrest, and in some cases, sudden death (vi). To learn more, please refer to the Zithromax infographic on our webpage.
Due to the most recent warnings about irregular heart rhythms and heart injuries coming from the US FDA (vii), consider speaking with a qualified attorney if you feel you have experienced complications that may be attributable to the drug Zithromax. An experienced lawyer specializing in dangerous drugs may be able to help you determine whether or not you are entitled to compensation.
If you believe that you or a loved one have experienced heart complications possibly due to use of the antibiotic Zithromax, you may wish to speak with a qualified personal injury attorney regarding the possibility of a dangerous drug claim. A Zithromax lawyer who is familiar with drug's side effects and potential for causing cardiovascular conditions in particular may be able to assist you. d'Oliveira & Associates, P.C. is working closely with investigators and experienced attorneys around the country who are handling these types of Zithromax lawsuits. Please contact the law offices of d'Oliveira & Associates, P.C. at 1-800-992-6878 or visit us online for a free consultation.
Links:
(i) wipo.int/export/sites/www/freepublications/en/intproperty/888/wipo_pub_888_1.pdf
(ii) nejm.org/doi/full/10.1056/NEJMoa1003833
(iii) nytimes.com/2012/05/17/health/research/popular-antibiotic-may-raise-risk-of-sudden-death.html?_r=0
(iv) fda.gov/drugs/drugsafety/ucm341822.htm
(v) mayoclinic.com/health/drug-information/DR602817/DSECTION=side-effects
(vi) nejm.org/doi/full/10.1056/NEJMoa1003833#t=articleDiscussion
(vii) nytimes.com/2013/03/13/business/fda-toughens-heart-warning-on-common-antibiotic.html?_r=0