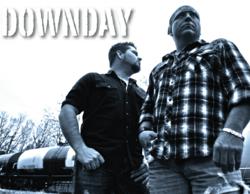 "There's just something about the music these guys make, it's real, it's blue collar and they make you feel like you've lived every word of every song they write or perform." - John Daly
(PGA Golfer/2 Time Major Champion)
Nashville, TN (PRWEB) May 15, 2013
Render Records is proud to announce the addition of DOWNDAY as the newest members of the labels artist roster.
The Arkansas-based band founded by Rockey Jones, Christian Dean and David O'Neal have been blazing new music trails across the state of Arkansas, as well as, the entire mid south region, growing their fan base at a rapid rate with their unique blend of southern rock style, country melodies, blue collar message and tight harmony.
DOWNDAY was signed in April by hit songwriter, producer and Render co-founder, Steve Freeman. "I had been watching these guys from afar for quite a while. Being from Arkansas, I have always wanted to sign and develop an act from my home state. They sent me some music from their self-recorded cd and I was blown away. I went to see them live and wouldn't leave without signing them to the label. I see talented people make music every day, but what I saw at a sold out show in Ft. Smith Arkansas, I will never forget. I became an instant fan along side a thousand other people at the venue. From the level of musicianship, showmanship and talent, coupled with the way the crowd reacted to this band, it's just not something you see every day," says Freeman.
Things are moving quickly for the newest members of the Render Records recording family. Render released DOWNDAY's debut single "Back In The Day" to country radio yesterday. The song was written by the band along with Freeman, whom all hail from the same area in Arkansas, and tells a story everyone can identify with about looking back in life and reminiscing on days gone by and where you came from. The single will be available on iTunes and other digital platforms on Tuesday June 4th. The same day, Render is releasing the bands 2009 album 'Chapter 1', which has previously never been available for retail purchase. Both the single and the album are available now for pre-order thru iTunes. Later in the month of June, the band will be filming the video for "Back In The Day", hitting the road to visit radio stations all over the country on a nationwide radio tour and and fulfilling their current touring calendar.
DOWNDAY is currently in the studio with platinum selling producer, Steve Freeman, writing and recording their debut album for Render Records, which has a scheduled street date of Tuesday, October 8, 2013.
To celebrate the signing of DOWNDAY to its artist roster, Render is giving away a free song here.
More about Render Records:
Render Records is a record label, music publisher and music management firm with offices in Nashville and Los Angeles. Render was founded in 2010 by songwriter and record producer Steve Freeman, Yahoo Co-Founder and Funny Or Die Co-Founder Randy Adams and International Pop Star and current lead singer for the Grammy winning and multi-platinum selling Blood Sweat & Tears, David Aldo. The labels current roster includes artists DOWNDAY, David Aldo, Jason Charles Miller, Lisa Torres, Sherri Abbate, DNR and Lathan Moore.