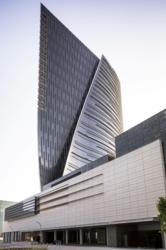 Abu Dhabi (PRWEB) May 16, 2013
Rosewood Abu Dhabi, the ultra-luxury five-star hotel ideally located on the waterfront of Sowwah Square opened its door earlier this month, marking the first presence of the Rosewood Hotels & Resorts brand in the UAE. Leveraging years of global experience and a corporate passion to exceed expectations, the renowned hospitality brand offers UAE residents and Abu Dhabi tourists a distinct and personalized luxury lifestyle experience in the heart of Abu Dhabi on Al Maryah Island.
"Rosewood Abu Dhabi is a perfect choice for travellers coming to the capital on business or pleasure," says Luigi Romaniello, Rosewood Abu Dhabi's managing director, who has been with Rosewood Hotels & Resorts for more than 13 years. "Travellers today are looking for more than a bed and breakfast; they require a destination which offers both a comforting retreat from the day, but also a vibrant energy and variety of amenities. Rosewood Abu Dhabi provides a luxury lifestyle experience currently unmatched in the capital."
"The opening of Rosewood Abu Dhabi is a spectacular addition to our existing Middle East hotels and a significant milestone for us as we continue our global expansion," said Radha Arora, President of Rosewood Hotels and Resorts. "This stunning hotel exemplifies the Rosewood Sense of Place® philosophy with its spectacular design and unrivalled guest experiences and underscores our commitment to providing exquisite luxury experiences in key business and leisure destinations around the globe."
The 189-room hotel is located at the core of the new Central Business District (CBD) between the prestigious Sowwah Square development and Cleveland Clinic Abu Dhabi. The Galleria, a new retail and dining destination with direct access to the hotel is set to open on the Island in August. Downtown Abu Dhabi, leisure facilities and the airport are also easily accessible from Al Maryah Island.
Rosewood Abu Dhabi will features signature restaurants and lounges; fully equipped conference and event spaces including a ballroom which will accommodate up to 1,000 guests; pool and gym facilities and Sense, A Rosewood Spa®. The interiors have an air of understated elegance, with exquisite materials such as Italian marble, a bespoke four-meter American walnut table and custom and hand-blown chandeliers from the Czech Republic featured throughout the hotel.
"Our 300-member team originating from more than 60 countries, has undergone extensive training and been immersed in the local culture over the past six months," says Mr. Romaniello. "Led by a multicultural management team, they are committed to creating unique and sophisticated experiences inspired, crafted and delivered under the Rosewood guiding principle, A Sense of Place®."
Rosewood Abu Dhabi understands that its team, known as "internal guests", embodies the core attributes of the brand and is at forefront of public thought. As such they have enlisted the expertise of internationally renowned Italian fashion designer Domenico Vacca to design the official hotel uniform. Vacca has built his tailored clothing empire on a concept that Italians have known for decades: classic, well-made clothes create a wardrobe that lasts a lifetime and he has also applied this concept throughout the range of Rosewood Abu Dhabi uniforms.
Rosewood Abu Dhabi's architecture represents the brand's A Sense of Place® philosophy and is contemporary yet uniquely Arabic, reflecting both the capital's traditions and modernity.
Under the helm of Executive Chef Wolfgang Eberle, Rosewood Abu Dhabi will cater to every palate in the hotel's nine restaurants and lounges, including Catalan, a sophisticated restaurant offering cuisine from the authentic Barcelona and north-eastern region of Spain; Sambusek, a delightfully modern Lebanese restaurant; Smoke, a vibrant shisha terrace, Aqua, which will offer Italian and Mediterranean delicious dishes in a refined yet informal setting; Spice Mela, a contemporary restaurant serving Pan-Indian cuisine; La Cava, a grape cellar with a walk-in cigar room; Glo, the glamorous bar lounge, the intimate Hidden Bar; and the Majlis lobby lounge.
Ali Eid AlMheiri, Executive Director, Mubadala Real Estate & Infrastructure (MREI), reflected on the importance of Sowwah Square: "The opening of Rosewood Abu Dhabi marks an exciting milestone for Mubadala Real Estate & Infrastructure as the hospitality component of our portfolio advances. This development also represents the next stage in the evolution of Sowwah Square as it moves closer to a realizing its vision as a thriving urban hub. The ultra-luxury hotel will offer a variety of amenities and food and beverage offerings to the neighboring business community, local UAE residents and both regional and international tourists visiting the Capital."
In addition to Rosewood Abu Dhabi, Sowwah Square, the heart of Abu Dhabi's new Central Business District (CBD), is comprised of four Grade "A" commercial towers, a second hotel offering and The Galleria at Sowwah Square, a luxury fashion and dining district connecting the entire mixed-use development to the waterfront.
For room reservations and restaurant bookings, please contact Rosewood Abu Dhabi on AbuDhabi.Reservations(at)rosewoodhotels(dot)com10731579 or call +971 (0) 2 813 5555 and AbuDhabi.Dining(at)rosewoodhotels(dot)com or call +971 (0) 2 813 5552. Follow Rosewood Abu Dhabi on Twitter and Facebook to get the latest updates on special promotions and upcoming events.
Founded in 1979 and headquartered in Dallas, Texas, Rosewood Hotels & Resorts® manages one-of-a-kind luxury properties in the world's most desired destinations. Rosewood properties embrace the company's A Sense of Place® philosophy, reflecting the history, architecture, scale and sensibilities of the destination. The Rosewood collection includes some of the most legendary hotels and resorts in the world, including Rosewood Mansion on Turtle Creek® in Dallas, The Carlyle, A Rosewood Hotel in New York, Rosewood Little Dix Bay on Virgin Gorda, as well as contemporary classics such as Rosewood Sand Hill® in California, Rosewood San Miguel de Allende® in Mexico, and Rosewood Tucker's Point in Bermuda. Rosewood also offers Sense® spa – featuring treatments reflective of the location's culture and natural environment – available exclusively at select properties. For more information, please visit rosewoodhotels.com or follow the group's latest news on Facebook or Twitter.